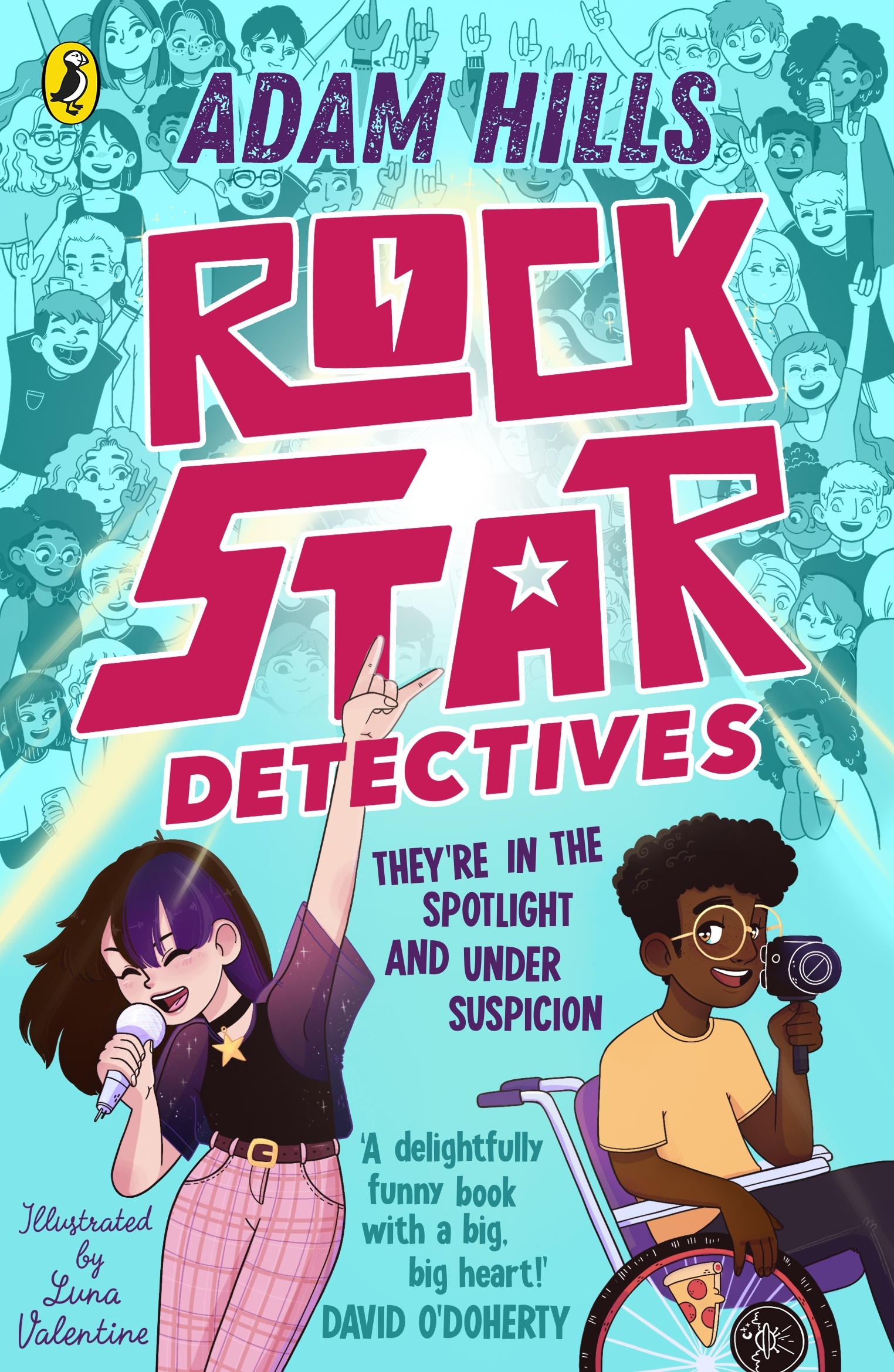 Rockstar Detectives
By Adam Hills
Illustrated by Luna Valentine
Reviewed by Margaret McKay-Lowndes
Comedians writing children's novels is a thing. It started with David Walliams' highly successful The Boy in the Dress. Funny men David Baddiel and David O'Doherty have also contributed to this trend. Australian comedian Adam Hills attributes his new-found interest in writing children's books to enforced quarantine while travelling between the UK and Australia during the pandemic. Fans of Hills will be aware of his many talents: as a comedian, TV host, disability advocate, and music fan. All of these interests surface in this debut novel.
In Rockstar Detectives we are introduced to twelve year old best friends, Charley and George who attend Rokesbourne High School in London. Charley has become a successful rock star with the help of social media guru and aspiring comedian, George, who lives with a disability confining him to a wheelchair. Charley is passionate about performing for an audience and has developed a devoted fanbase.
The children are accompanied on tour by their  adult manager, Sam Mallone. While on tour, the pair visit museums and art galleries, and complete assignments for their history teacher, Miss Fairburn. When valuable pieces of art which happen to be the subjects of their assignments mysteriously disappear, Charley and George are implicated in the crimes. To prove their innocence, they embark on a daring investigation to reveal the truth. Many clues are explored, keeping the reader on their toes – which clues are red herrings; who is the culprit?  Helpfully for young readers, George's notes are provided at the end of some chapters to keep track of the ever-evolving mystery.
Humour in children's books often revolve  around bodily functions but this is not so here. Adam Hills has successfully incorporated his own brand of clever humour into this refreshing story, the first in a planned series.
Recommended for readers aged 8 to adult, who enjoy a good mystery and a good joke.