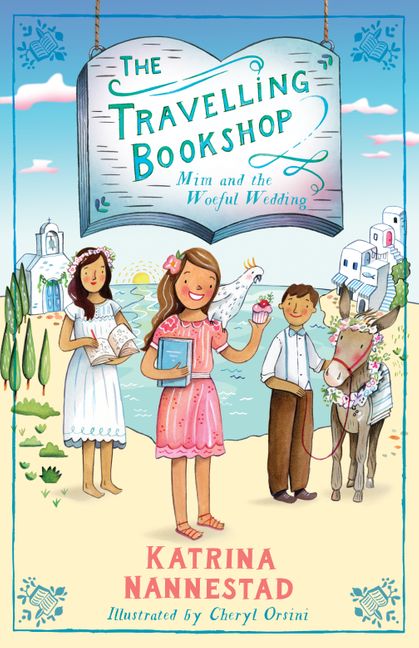 Mim and the Woeful Wedding : The Travelling Bookshop #2
By Katrina Nannestad
Illustrated by Cheryl Orsini
Reviewed by Sarah Custance
Mim and the Woeful Wedding is the second book in The Travelling Bookshop series by Australian author Katrina Nannestad. Nannestad is also the acclaimed author of four other young reader book series: Red Dirt Diaries, Olive of Groves, Lottie Perkins, and The Girl, the Dog and the Writer series. She has also recently written books for upper-middle-grade audiences such as We Are Wolves and Rabbit, Soldier, Angel, Thief.
10-year-old Mim lives in a travelling bookshop with her eccentric father and her clothes hating younger brother, Nat. Their loyal horse Flossy takes the bookshop (which is a little rundown caravan) wherever they are needed the most.
This time the family find themselves on a beautiful small Greek island that is all aflutter with an upcoming wedding. The whole town is excited… all except the soon-to-be bride and groom who seem much happier apart than together. Mim is sure that the bookshop (and Flossy) brought them here to stop the wedding, but both the shop and her dad keep handing out the wrong books! Will a woeful wedding take place or will the right books in the right hands lead to something even greater for the whole island?
With fun and quirky black and white illustrations by Cheryl Orsini throughout the book, Mim and the Woeful Wedding is equally as charming as its predecessor Mim and the Baffling Bully.
Strong themes of family, community, and being true to yourself and your passions run rampant throughout the story, along with an important message about how love can take many different forms and may not look the same for everyone.
This book can act quite happily as a stand-alone but young readers will get more out of it if they have also read the first book (which explains Nat's distaste for clothing a little more).
Readers will delight to be back in the magical bookshop where younger brothers run naked through the streets, kittens show up at random, dolphins continuously steal beach balls, desserts can be a main meal, and secret hideaways can be found all across this particular Greek island. What's not to love in a world where the line between books and real life is not as clear as you may think?