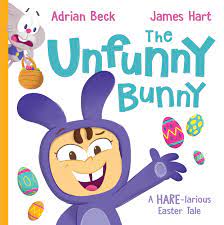 The Unfunny Bunny
By Adrian Beck and illustrated by James Hart
Reviewed by Sarah Custance
Australian author and TV producer Adrian Beck is known best for his children's book series such as, Derek Dool, Stuff Happens, Little Legends (co-written with Nicole Hayes), and Kick it to Nick (co-authored with Shane Crawford). The Unfunny Bunny is Adrian's second picture book following Stop the Dad Jokes!
It's the night before Easter and a faint hopping can be heard just above the rain. A young child in a bunny onesie rushes downstairs to find the real-life Easter Bunny! Deciding that they know their family the best, the child takes on the role of 'Helper Bunny' and the two begin to tailor make Easter egg hunts for each member of the family. But soon the overly zealous egg jokes and increasingly silly hunt ideas begin to get on the real Easter Bunny's nerves. Will this Easter turn into the funniest hunt in history, or will it all be too much for the family and the Bunny?
The rhymes and flow of this picture book do, at times, feel a little forced and the many, MANY egg jokes simply do not fit into the rhyme at all which does feel odd, but they will succeed in making young readers repeat the jokes many times over! Illustrator James Hart (known most widely for his work with Anh Do) has added his flare of wonderfully expressive character illustrations done in large, bright format that will be a huge draw card for young readers. Overall, it is a fun and silly picture book designed to get kids giggling, and it will definitely get that aimed reaction. As long as you can handle the very silly egg puns and jokes, then you will find that the ending is actually quite wholesome and emphasises on holidays bringing families together, rather than it just being about chocolate.