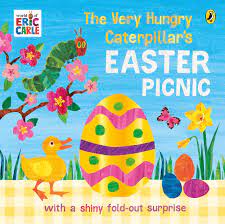 The Very Hungry Caterpillar's Easter Picnic
By Eric Carle
Reviewed by Sarah Custance

German-American author Eric Carle is probably best known for his famous picture book, The Very Hungry Caterpillar, which was first published in 1969 and has gone on to sell over 50 million copies and been translated into more than 66 languages.
Unfortunately this picture book legend passed away last year (at the time of this post) after having illustrated more than 70 books, the vast majority of which he also wrote. However his legacy continues to live on with the newly published, The Very Hungry Caterpillar's Easter Picnic!
This time we join our hungry caterpillar friend as he explores his surroundings in the great outdoors, meeting new animal friends along the way, as he hunts for a special Easter surprise!
With the wonderfully simple, yet captivating rhymes and illustrations that have made Eric Carle so famous, readers young and old will be happy to jump back into The Very Hungry Caterpillar world for this special holiday edition. The book is published as a very sturdy and durable board book suitable for babies and up, while containing a special lift-the-flap page at the end. This lovely Easter story will be a welcome addition to any personal, pubic, and school library that values the numerous contributions that the late Eric Carle made in the world of children's literature.