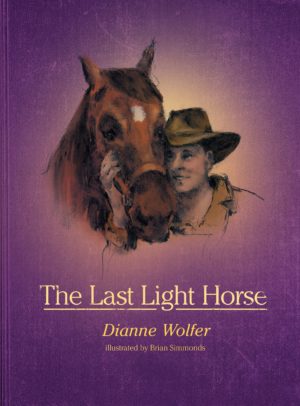 The Last Light Horse
By Dianne Wolfer
Illustrated by Brian Simmonds
Reviewed by Sarah Custance
Australian author Dianne Wolfer has won numerous awards for her many children's books that range from picture books, to middle-grade readers, and in this case, short historical fiction books. The Last Light Horse is one of her newest books as well as the fourth and final instalment in her Light series that also contains, Lighthouse Girl, Light Horse Boy, and In the Lamplight.
Between 1914 and 1918 it is estimated that Australia sent around 136,000 horses overseas to help the war effort in numerous ways. Of the 136,000 horses that were sent, 1 horse came home. This is the story of Sandy, the only horse that made it home. We follow Sandy's journey from country to country and from his many different owner/handler's, beginning as a foal in the high country of Victoria, to moving bricks with his first owner Francis. His next owner, Major General Bridges, was his most important (as without this man, not even a single horse would have returned home) and it was through him that Sandy began his war campaign that ranged from the Pyramids in Alexandria, to the bombs of Gallipoli, the many battlefields of France, a rest in England, and then a final journey back to Australia.
The Last Light Horse does a brilliant job in evoking strong emotions from the reader using many different mediums. We are given beautiful black and white illustrations by Brian Simmonds throughout the book, but also newspaper clippings, snippets of manuals, quotes from other authors or historic figures about the importance of horses, maps, photos, and at one point, even a glimpse of a sheet of music. This all pulls together to make sure that the reader gets a glimpse of what it was truly like for Australian soldiers and the light horses throughout the different stages of the war, while pulling at the heart strings of any animal lover. The book does use creative license but is still truly historical as even I found myself learning things about the First World War that I had never known before. This book will be a fantastic addition to libraries everywhere and especially to school libraries when the curriculum looks into the First World War.
NEWSFLASH! The Last Light Horse has been long listed in the