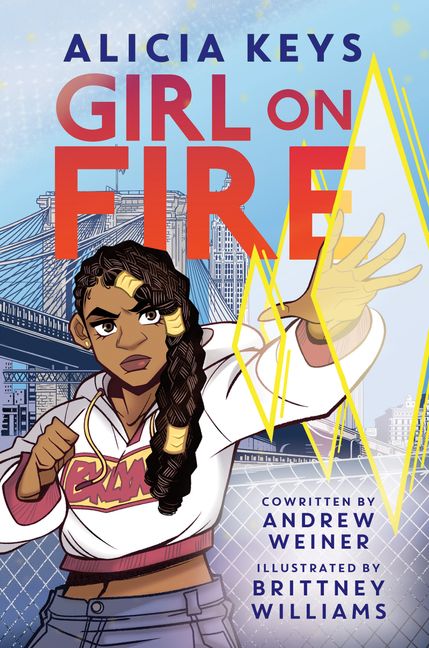 Girl on Fire
By Alicia Keys and Andrew Weiner
Illustrated by Brittany Williams
Reviewed by Sarah Custance
Alicia Keys has won 15 Grammy Awards for her singing and song writing. She is also an actresss, entrepreneur, philanthropist, and is celebrated worldwide for her humanitarian work. Girl on Fire is Alicia's first graphic novel and is cowritten by established writer Andrew Weiner. Girl on Fire is also the name of Alicia Keys 2012 award winning song.
15-year-old Lolo is an above average student who has grown up in the projects, and whose values of truth and justice have been instilled upon her and her brother, James, by their hardworking father. So when James is accused of a crime he didn't commit and has a firsthand experience of police brutality, something awakens in Lolo and she uses powers that she never knew she had to protect him. While trying to sort through her new powers, Lolo is now faced with a new problem. Local drug dealer and all-around bad guy 'Skin', has found out about her powers and wants her to join his crew, and he wont take 'no' for an answer. When Skin finds a way to put Lolo's loved ones directly in harm's way, she must choose to either take the easy way out to protect her family, or to stand and fight for what she believes in, even at the cost of those she loves. Will support from unexpected places help or was it a lost battle all along?
In Girl on Fire, Alicia Keys and Andrew Weiner have given us wonderfully diverse characters who show strength in many different ways, showing that muscle is not the only way to be 'strong'. Challenging stereotypes and encouraging change, this coming-of-age story has many layers. With themes of drug use/dealing, family bonds, family separation, finding yourself, sibling bonds, race issues, police brutality, and bullying, this graphic novel doesn't shy away from issues but embraces them to show how things can change for the better even in the worst scenarios.