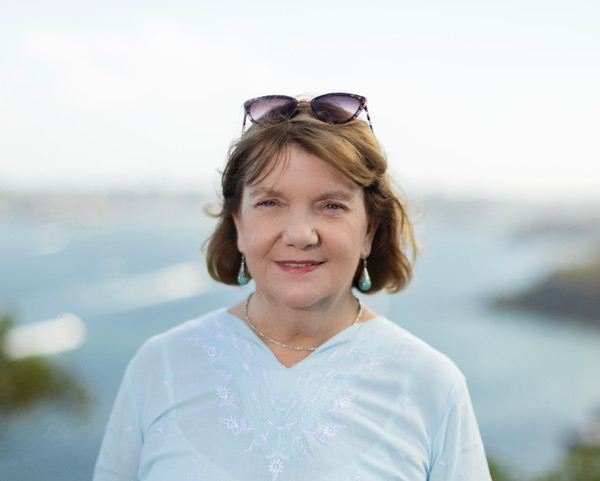 Spotlight on 2022 Short Story Shortlist: Marian McGuinness
Here is the second of our Spotlights on shortlisted writers. Marian McGuinness has been shortlisted for her story Queenie's jiggly-Jolly Holiday  – Queen Clarabelle enjoys being alone at the Get Lost Caravan Park but then makes some new friends.
Marian is a Sydney-based freelance writer, seduced by the muse into her realms of travel writing, children's fiction and educational writing. She has a special love of writing for children and  facilitates the Children's Writers' Group at Writing NSW. She is also on the committee of the Northern Sydney Sub-branch of the Children's Book Council of Australia (CBCA)
When did you realise you wanted to be a writer? How long have you been writing?
I have been writing since I could hold a pencil under my bedspread in the dark while writing a story (aka 5-years-old). I must have developed possum eyes! I've never stopped writing. I became an English teacher and started up a lunchtime creative writing group for 12 – 18-year-olds. I was able to focus on my own writing when I left teaching.
What is your favourite genre to write? Do you write for adults as well as children?
I do love writing humour that has a touch of pathos. I also love the fantasy element where the world evolves from my imagination. Sprinkle in nature and landscape and I'm in writing heaven. I also write for adults as I've fallen into travel writing for newspapers and magazines. I often use my travel experiences and landscapes to underpin my stories for children.
What is your motivation? What makes you want to write something? Are you doing it for fun? To save the world? Or somewhere in between?
It's as if words bubble up from something deep within. It's something I can't control. I carry a notebook everywhere and am always jotting down ideas, images, phrases that swill around often leading to a poem, short story, chapter book or travel article. I don't want to save the world but want to take readers, big and small, on a journey into their imagination.
Is there any other writer out there who inspires you? Favourite writers?
I'm a huge fan of Lisa Nicol. Her writing is left-field, original and inspiring. I also love Judith Rossell, Thomas Taylor, Philip Pullman and for nature – Robert Macfarlane. Add to this list the authors of all the books on my teetering 'to read' pile.
When not working on short stories for StoryLinks what are you writing atm?
I'm working on more short stories for The School Magazine as well as a humorous/poignant junior fiction script about a boy with the legacy of two unusual names that help him save the environmental world. I also have other JF, MG and picture book scripts that I keep honing.
Anything else you want to say? 
I wish to thank StoryLinks for the opportunity to explore the creation of another story that hopefully kids will read, laugh along with and think about how they could be the characters making even a small difference in others' lives. www.marianmcguinness.com
The winner of the competition will be announced at the annual Narelle Oliver Children's Literature Lecture on Thursday evening, 26 May 2022. The winner will receive $250.00, and they will be invited to have their story published on StoryLinks website.