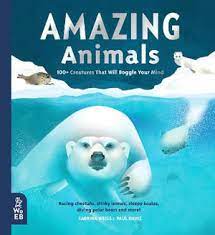 Amazing Animals: 100+ Creatures That Will Boggle Your Mind
By Sabrina Weiss and Paul Daviz
Reviewed by Sarah Custance

Amazing Animals is the fourth book in the Amazing series, following on from Amazing Islands, Amazing Rivers, and Amazing Treasures.
In this book we explore some of the world's weirdest and most wonderful creatures. From their extreme habitats, serious skills, astounding adaptations, and so much more.
Amazing Animals: 100+ Creatures That Will Boggle Your Mind, really is full of mind-boggling information. With interesting facts like: what the biggest animal in the world is (hint, it's not the one you're thinking about), how different animals use different tools to help them with tasks, animal transformations, animal records, and how animals have adapted to live in extreme and hostile environments. The reader is taken through some of the amazing habitats and shown the incredible migrations that different species undertake.
Including a Contents table at the front and Glossary, Index, and Source pages at the back, this is a great research book for younger children. Amazing Animals has something in it for everyone with beautiful, creepy, scary, inspiring, and sometimes just plain odd animals to explore and learn about.
The illustrations by Paul Daviz are an interesting mixture between realism and cartoon that immediately draws the eye of the reader with each animal's expressive and lively features. Amazing Animals is a great book for both research purposes and general information and learning, it would make a great gift for any young animal enthusiast and be a fantastic inclusion for any library.