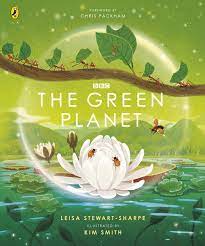 The Green Planet
By Leisa Stewart-Sharpe and Illustrated by Kim Smith
Reviewed by Sarah Custance

Leisa Stewart-Sharpe is an Australian born author who currently lives in the UK. She specialises in writing non-fiction books along with picture books. The Green Planet is one of two nature inspired books that she has had come out this year along with Wild Life: The Extraordinary Adventures of Sir David Attenborough.
This non-fiction book is all to do with our planets amazing plant life. Through it the reader learns how plants give the earth oxygen, rain, and life in general. We learn how some plants use animals to help them by spreading pollen, seeds, or nuts, to helping with pest control, and sometimes even using the animals as food…. We see the battle for light within the tropics and the cunning use of shrew poo in the Kinabalu Pitcher Plant, along with learning about the devastating effects of deforestation.
All through the book we are taken to the many different landscapes of the world such as the desert, the water, sea gardens, and sands, and then we take a look at seasonal changes and human impacts. In each landscape we are given facts, stories, and inhabitants of that region, showing the great diversity that is on offer. Throughout it all though we are reminded that humans and nature can and need to find a way to co-exist and live in harmony. It is not all doom and gloom, as we are shown that nature always finds a way and that there is always hope.
When it comes to nature, we tend to normally focus on the animal side of situations and regions, so having a book show just how extraordinary and adaptive plants and vegetation are is quite refreshing. Kim Smith's illustrations throughout the book are bright and inviting, showing plants, animals, and humans. The overall message that The Green Planet conveys is one of hope, a hope that we can work together with our world to make things better for all of us.
It ends with a lovely quote from Sir David Attenborough about how plants are our greatest allies and how we still have the chance to make a Greener Planet. All plant lovers, and school libraries should have a copy of The Green Planet as it is packed with engaging information and beautiful illustrations.