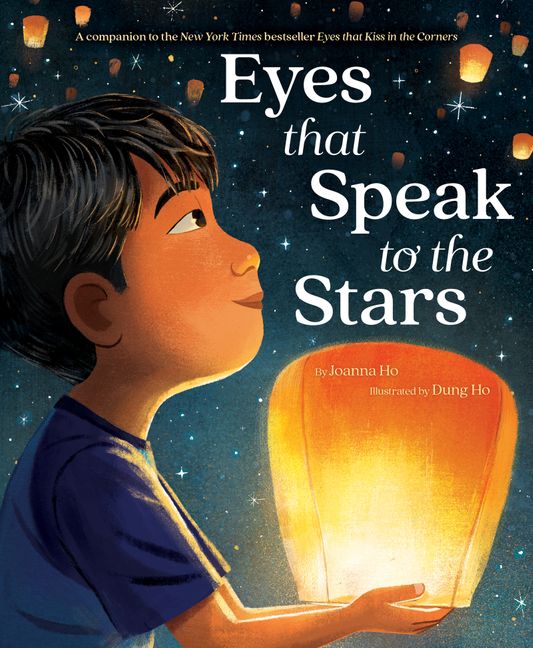 Eyes That Speak To The Stars
Written by Joanna Ho
Illustrated by Dung Ho
Reviewed by Margarite Igras
This poignant picture book is a companion to Eyes That Kiss In The Corners . Eyes That Speak To The Stars is about accepting who you are, your heritage and your physical appearance, all within the love and support of family.
A boy prepares for school. His bedroom is littered with things he loves – Chinese dragons, Chinese lanterns, but also dinosaurs, trains, and the solar system. At school. his friend Karl showed him a picture he drew. He pointed and said that one, with "eyes like two lines stretched across his face" is you.  The boy is shocked. He had never thought of himself in this way.  After school he shares his feelings with his father who explains that all the people he loves, have similar eyes – his baba, his agong, and even his little brother Di-Di. They are eyes that rise to the skies and speak to the stars. Eyes that through generations, have seen the past and look to the future.
The vibrant illustrations fill each page with the rich fabric of Chinese culture.  There are Dragons, puppets, lanterns, paddy fields, and kites but also a loving modern home in a city, and a beautiful relationship between the boy his father, grandfather, and brother. Each page glows with the old and the new.
The text reads like a poem with the repeated mantra, "eyes that rise to the skies and speak to the stars". It speaks of the lens through which we see our past, how we live in the present and anticipate the future.
A timely book that focusses on the strength and support of the men in the family.