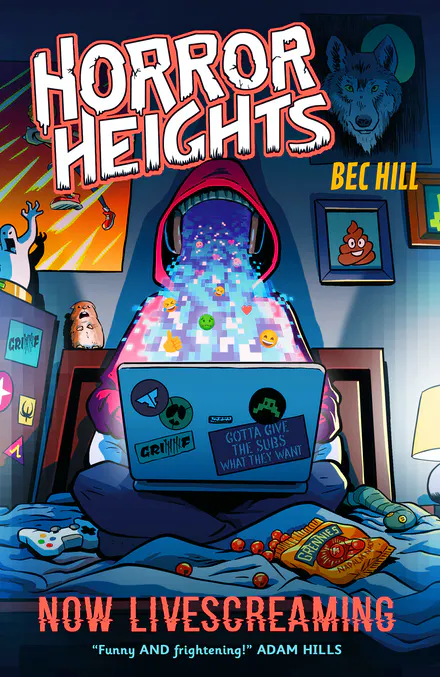 Horror Heights: Now Livescreaming
By Bec Hill
Reviewed by Sarah Custance

Now Livescreaming is the second book in the Horror Heights series by Australian author, performer, and presenter, Bec Hill, the first in the series being The Slime.
Inspired by his favourite influencer Grimmf, young Ryan has one dream, to become a famous livestreamer with thousands of followers just like his hero! The only problem is, Ryan can barely keep 10 followers, yet alone thousands. So when a pop-up on his computer offers him the opportunity of a lifetime, to BECOME Grimmf, Ryan doesn't think twice before switching users.
As Ryan lives it up as his hero, getting the latest car, phone, toys, and weapons, he thinks he's hit the jackpot! But soon he realises that it's not all fun and games when 'users' are the ones that control your life and surroundings. After a terrifying incident (involving MANY bugs), Ryan decides that enough is enough, and reaches out to his best friend Ishaan.
After having to convince Ishaan that it really is him, the two recruit Ryan's sister Lily to help figure out what's going on. But Lily reveals that Ryan, or someone that looks just like him, has been in their house all along… revealing conspiracy after conspiracy, will Ryan ever get his real life back or will he be stuck livestreaming forever?
This series is widely advertised as the 'new Goosebumps', which it sort of is, if Goosebumps was less scary, had happier endings, and a lot more silly/crude jokes. But as an introduction for younger readers into the 'horror' genre then this is a perfect book! With a large amount of online lingo, parents will most likely have no idea what is going on but will appreciate the overall message of less screentime and more cyber awareness and security.
With themes of peer-pressure, family, friendship, and technology addiction, there are some serious issues being dealt with, though it never drags down the overall feel of the book, a funny sort of frightening. It will be interesting to see where Bec takes this series as it could, at this point, either go scarier (like Goosebumps) or go sillier (more like David Walliams). Either way, young horror enthusiasts will love this book and hopefully gain a little perspective on the opinions of strangers online.