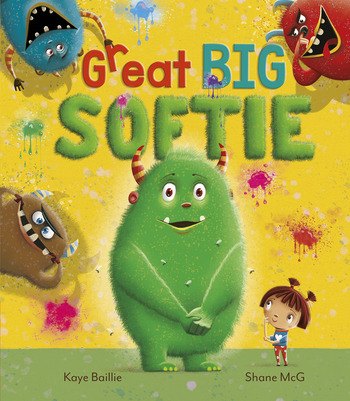 Great Big Softie
By Kaye Baillie and illustrated by Shane McG
Reviewed by Sarah Custance

Australian author Kaye Baillie is a writer of both fiction and non-fiction picture books, one of her books, When the Waterhole Dries Up, has been shortlisted by the Children's Book Counsel of Australia. Great Big Softie is Baillie's latest picture book.
Elliot is a monster. He knows he's a monster because he looks like a monster, sounds like a monster, and even smells like a monster. But deep-down Elliot is really just a great big softie who likes animals, flowers, and being nice. One day as Elliot is watching the other monsters make trouble, ruin things, and burp all over the place, he begins to worry that he won't ever fit in. So, to prove himself to the other monsters Elliot decides that it's time to 'monster up'.
He goes on a rampage through a gift shop, steals all the churros from a vendor, ruins the local swimming pool, and scares a young girl who ends up loosing something precious because of him. As the other monsters celebrate how wonderfully monstrous Elliot has become, Elliot himself is not so sure what to do… should he keep playing the part of a monster or should he try to be accepted for who he really is?
Great Big Softie is a great introduction for young readers about peer pressure, fitting in, and staying true to yourself and what you believe in. Shane McG's illustrations are wonderfully bright and expressive, so the reader is never in any doubt as to how each character is feeling. With the book's straightforward story and sweet message, Great Big Sofie would make either a good read aloud book, or bedtime read.