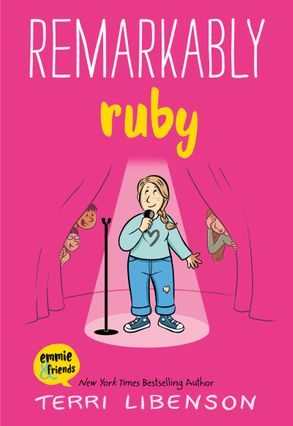 Remarkably Ruby
By Terri Libenson
Reviewed by Sarah Custance

Terri Libenson is an American graphic novelist; Remarkably Ruby is the 6th book (7th if you count a journal with some short stories mixed in) in the Emmie & Friends series. The first book was called Invisible Emmie and each subsequent book has been based around a character first met in that original text.
7th grader Ruby is a self-proclaimed loser. She prefers to sit and write in her journal rather than try to make any friends, and after some unfortunate social misunderstandings she is known to most of the school as 'Baked Bean Girl' due to her IBS. Then we have 8th grader Mia, popular, has a cute boyfriend, is good at everything she tries, and is now running for class president. These two opposites used to be friends… until middle school happened and Mia saw Ruby as more of an embarrassment than a friend.
Now both girls live completely separate lives, one alone and lost, and the other fitting in and surrounded by friends. But when Ruby's favourite teacher Mrs. Winn decides to start an afterschool poetry club and have Ruby as it's founding member the tide begins to turn. As Ruby is finally starting to find herself and where she belongs, Mia's presidential fever is driving a wedge between both her friends and her boyfriend, making her feel like she's losing herself. What will happen when the two most opposite people find out that they may not actually be so different after all?
While this is a series, you do not have to have read the books in order, a new reader could easily pick up this book and have no problems understanding anything. Though having said that, I do highly encourage everyone to read all of the books as you get to see all of the little easter eggs that Libenson has added to each novel in the form of all of the side and main characters. Like the other books in the series, this is told in two different formats, one for each different character. Ruby's story is told as more of a classic style of writing with a number of illustrations, while Mia's story is told through graphic novel format.
The Emmie & Friends series is great for introducing readers to the graphic novel genre, as it is done in moderation. And on the flip side it's actually also a great way to see if your graphic novel obsessed reader may be ready to move on to the more classical style of writing again without it feeling forced. Remarkably Ruby is all about becoming your truest self and finding your people, equipped with Libenson's signature surprise ending (no spoilers here), both new and old fans will not be disappointed in this wonderfully and complexly woven coming of age story.