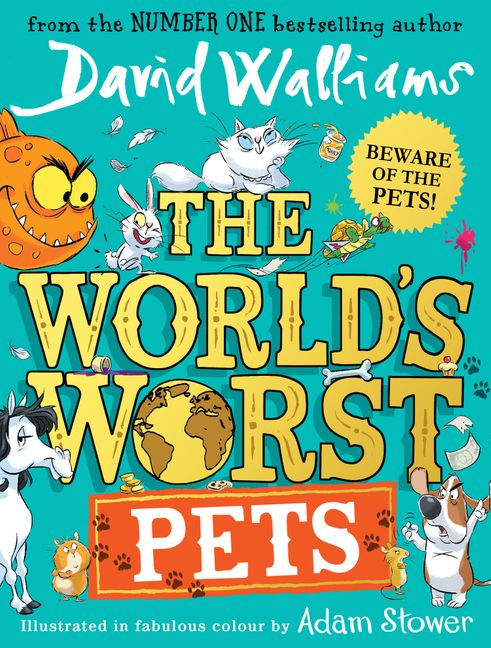 The World's Worst Pets
by David Walliams
Illustrated by Adam Stower
Reviewed by Mia Macrossan
David Walliams needs no introduction as he has been a popular fixture in the children's book world for many years. His 'World's Worst' series has featured children, parents and teachers and now here he is writing about the world's worst pets with great enthusiasm and inventiveness.
Being a cat lover I went straight to 'The Secret Diary of a Supervillain's Cat' p 161. This entertaining story is a spoof on early James Bond films  with characters from Dr No, Diamonds are Forever and Goldfinger. I think the humour would still work even if the young readers were not aware of the references.
Other stories feature musical dogs, a war between hamsters and gerbils (I won't tell you who won), a burgling budgie, and a great grizzly bear!. No you may not want any of these quite appalling creatures as your pet (speaking to the adults here, all children would love them), but it sure makes for some entertaining reading.
Kudos to Adam Stower for his zany colourful but above all energetic and expressive depictions of all the ghastly ( but deep down totally lovable) pets. There are lots of sound effects, many printed in enlarged graphic fonts and illustrated as well. There are hoots, whooshes, zaps, boinks, spluts, spurges, vrooms, and booms all which make these stories great read alouds for adventurous types who like to act out.
This colourful, sturdy, well designed book will last being loved to death by all the  animal lovers aged 7 and over.