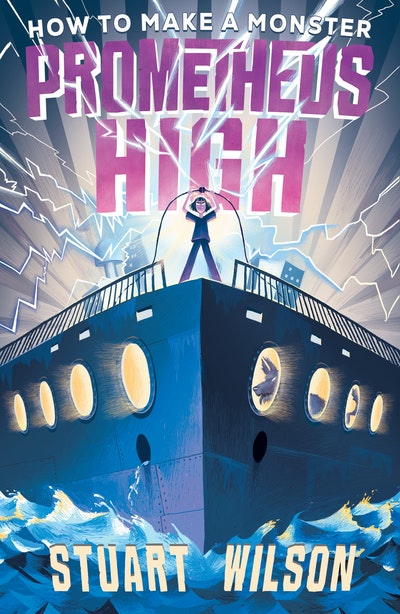 Prometheus High: How to Make a Monster
By Stuart Wilson
Reviewed by Sarah Custance

How to Make a Monster is Australian author, Stuart Wilson's, debut novel and the beginning of a series of books all about Prometheus High. The second book in the series The Books of the Dead will be released late 2022.
Teenager Athena Strange has always been a bit too weird and misunderstood for her family, and when she almost burns down her house in the middle of a storm trying to reanimate her neighbour's dead cat, it looks like she may have cracked her mother's last nerve. So when two mysterious strangers turn up on the Strange's doorstep that night and offer Athena a place at Prometheus High, a school where kids can test the limits of their scientific knowledge, Athena happily agrees.
When she arrives at Prometheus High, a dilapidated, decommissioned cruise ship and meets her eccentric teachers and classmates, Athena begins to feel like she needs to find her own way to prove her worth. All she needs is an abandoned laboratory, sketchy notebook on reanimation, and a few human body parts…
But at a school where magic is real, death is just another science experiment to fix, and monsters are on the prowl, anything can and probably will happen. Athena soon learns that if she is going to survive the semester then she may need to place a little bit more trust in her fellow classmates who each have secrets of their own.
Prometheus High: How to Make a Monster is undoubtably an amazingly fun, creepy, weird and macabre middle grade adventure story. How to Make a Monster truly is a remarkably original book, even though it does hint at the marvellous horror stories of old.
Dealing with friendships, trust, limitations, and the moral issues that come with the gift of life, this is quite a bit of a different book but if quirky and offbeat are what you are looking for then go no further! I for one, can't wait for the release of the second book where we will hopefully get to know a bit more about the other student's backstories.