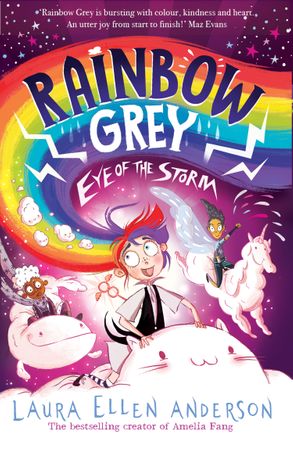 Rainbow Grey: Eye of the Storm
By Laura Ellen Anderson
Reviewed by Sarah Custance

Laura Ellen Anderson is the bestselling author/illustrator of the Amelia Fang books (of which there are now 8). Eye of the Storm is the second book in Anderson's latest middle-grade series Rainbow Grey.
10-year-old Ray is beyond ecstatic with her newfound Rainbow powers, even if she still hasn't quite figured out how to use or control them yet. While her best friends Snowden, a snow Weatherling, and Droplett, a rain Weatherling, couldn't be happier or more supportive for her not everyone in the Weatherlands is as thrilled to have the first Rainbow Weatherling in a thousand years within their community.
With people already mistrustful of her powers, Ray is the first person they blame when all of the cloud-creatures start to disappear. Determined to prove her innocence, because she's almost absolutely certain that she isn't the cause… Ray sets out to discover what is really going on. When the clues start to point at a dark and forbidden magic, Ray faces an impossible choice, especially when the villain's actions start to make sense.
Rainbow Grey: Eye of the Storm is a well formed, fun, and magically adventurous read. While I would always suggest reading books in a series in order, Eye of the Storm can be read on its own without the reader missing too much. The black and white illustrations throughout the book are a fantastic addition that really helps to spark the imagination of the reader.
With a secret weather agency that has B.U.M.S as it's acronym, cloud-cats that spontaneously explode, rainbow slides, lots of magic, and surprisingly profound endings, what's not to love about this latest addition to the Rainbow Grey series?