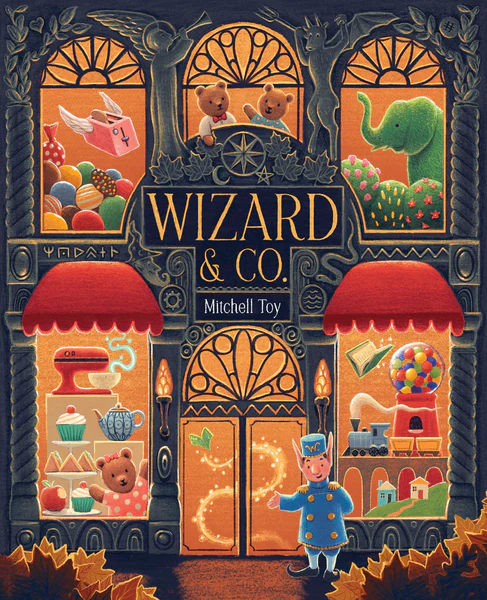 Wizard & CO.
By Mitchell Toy
Reviewed by Sarah Custance

Australian author/illustrator Mitchell Toy is fairly new in the book world but has already published 4 picture books, The Great Australian Bite, The Bounty of Bootless Ben, The Midnight City, and his latest work, Wizard & CO. about a magical department store that any child (or child at heart) would dream of.
One rainy holiday while staying with Nana Claire, two young children stumble upon a mysterious bank note that whisks away from their grasp and brings them to a magical store filled with everything a child could ever want. With floors dedicated to specific items such as level two which is filled with books where characters come to life, level four that contains all kinds of teddy bears, level six is games galore, and level eight is filled with enormous cakes and lollies, the two children are in their element!
But when they go to purchase their new collection of wonderful food and toys, the wizard on the top floor offers them something else in return. Now it's up to the children to decide whether getting or giving is the most magical thing of all.
Wizard & CO. is a rhyming picture book that mostly has a fun flow to it but every now and then it does come across as a bit forced. However, the wonderfully imaginative illustrations and very fun and engaging hidden messages throughout the book more than make up for the occasional stumble of words.
On each page there is a little hunt for the Wizard who runs the store along with some runes that you must find and decipher along the way with the help of a guide at the back of the book. This is the sort of picture book that you could look at over and over again and always see new things within it. There are also quite a few funny references for parents along the way, making it fun for readers of all ages.