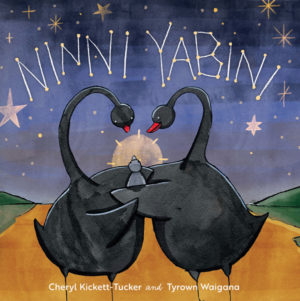 Ninni Yabini
By Cheryl Kickett-Tucker and Tyrown Waigana
Reviewed by Margarite Igras
This is a dual language book written in English and the language of the Noongar people of SW Western Australia. The story is based on a tale, passed down in the oral storytelling tradition, and packaged in a modern, vibrantly illustrated picture book.
Black swans, Maali and Djidaran are busily making a new nest for their precious cygnet Ninni Yabini.  A recent deluge had swept away the cosy nest made of sticks and river grasses. While her parents are busily finishing off a stronger nest, Yabini decides to chase a willy wagtail and becomes terribly lost. With darkness approaching, Yabini looks up at the sky and sees a bright star – the one she was named after; the one that will lead her back to her parents.
The watercolour illustrations are bold, simple, and striking. They dramatically fill each page and can carry the story even without the text. Yabini is presented as so tiny and fragile against her large protective parents. There is a sense of a tightly knit family with the parents working together to raise their offspring.
The minimal text on each page, is written in the language of the Noongar people, followed by the English text. The words are simple and together with the illustrations and storyline, this picture book is an engaging story from an ancient culture, that speaks to children today.
About the creators: Professor Cheryl Kickett-Tucker is a Wadjuk Noongar traditional owner, academic and author. Tyrown Waigana is a Wardandi Noongar and Ait Koedhal multi-disciplinary artist.