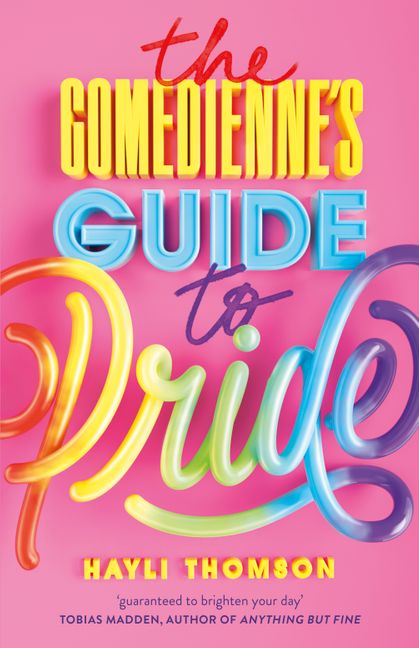 The Comedienne's Guide to Pride
By Hayli Thomson
Reviewed by Rose Hill
As a fan of YA I was excited to be asked to review Hayli Thomson's debut novel. I was hoping to love this book more than I did, the romance, coming of age story line was well developed and interesting however, the writing style and language were less mature than the storyline which made for a somewhat clunky and confusing read at times.
Taylor enters and is shortlisted in a prestigious comedy writing competition for diverse groups run by Saturday Night Live – she ticks the gay box.  It is her dream to write and perform comedy as a lesbian, except no one knows she is gay.  Her current crush is Charlotte who is the high school cool girl, ace actress and confidently out.  Her best friend Brooke, winner of Teen Dream House Rules, is well intentioned but misguided at times.  Her single mum runs a boarding house and has a history of lost opportunities.  Her dad is a Christian comic with a second partner and big plans for her.
Taylor sneaks off to Improv each week at a local community hall where she makes some unlikely friends, octogenarian Gilda Curphrey and 30-year-old Robert who has Downs Syndrome.  Life is complicated for Taylor without the pressure of coming out and coming to terms with her own identity which she needs to do before she is published as a finalist in the SNL competition.
CGTP is a light romance which is set in Salem, therefore it has a lot of American references not all of which were meaningful to me and may not resonate with Australian readers. It confidently tackles a number of societal issues relevant to a YA audience such as sexuality, diversity, phobia, feminism and religion.
The writing style and look of this book would appeal to the younger end of young adults however some language and content may not be entirely appropriate to that age group.