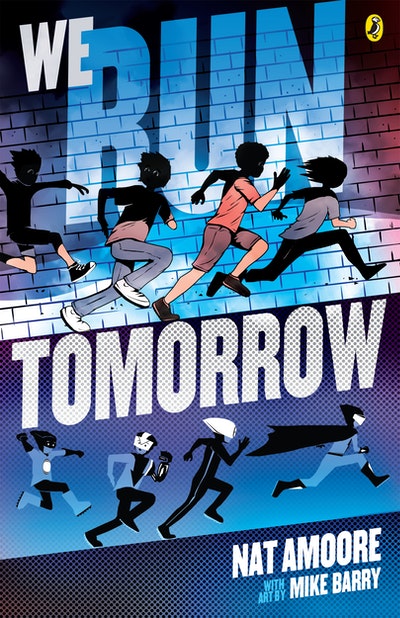 We Run Tomorrow
By Nat Amoore
Illustrated by Mike Barry
Reviewed by Sarah Custance

Nat Amoore is the author of Secrets of a Schoolyard Millionaire, The Power of Positive Pranking, and The Right Way to Rock all based around different children in the fictional school of Watterson Primary. We Run Tomorrow is her 4th middle grade novel and takes quite a different turn to that of her previous works which are based more on comedy while this has much more serious tones and messages.
11-year-old friends Sticks, Maki, Jed, and Tommy have all lived on the same street for years and have a tight friendship bond. The group of 4 does everything together and are always there for each other, so when they hear that their favourite comic series is being turned into a movie with open auditions, they are beyond excited at even the thought of trying out for parts.
But when different issues among the adults threaten to separate the group, the 4 kids decide to take matters into their own hands and try to forge their own futures without adult interference. Together the group instigates a clumsy kidnapping, run away from home, deal with thieves, hitch some interesting rides, and cross state borders all the while trying to avoid police detection. Will they be able to make it to the auditions in time or will rifts and their own individual issues slowly tear them apart?
As mentioned before, We Run Tomorrow sets a very different tone to Amoore's previous works. While still being very engaging and immersive it doesn't have the same silly-fun vibe that the other books had as this is a much more serious novel with more intense themes, and as such it worked well being a more down-to-earth book.
We Run Tomorrow deals with disability, death, bullying, abuse, social services, family struggles, friendship, and the importance of having a say in your own life. As the group of kids all relate to their favourite comic, we are given parallels to their lives as illustrated by Mike Barry's interesting comic panels throughout the book. With some twist endings, and some unexpectedly deep and emotional themes, this book keeps the reader engaged until the last page.