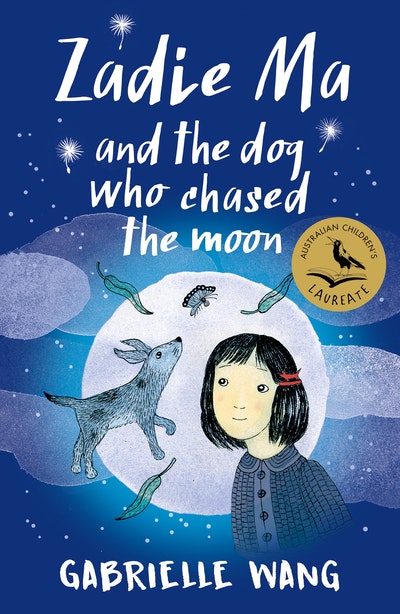 Zadie Ma and the Dog who Chased the Moon
By Gabrielle Wang
Reviewed by Sarah Custance

Gabrielle Wang is an Australian author who has written over 20 books for middle-grade audiences. She is the current Australian Children's Laureate (2022 – 2023) and Zadie Ma and the Dog Who Chased the Moon is her latest novel.
The year is 1955 and 11-year-old Zadie Ma is Australian born to two Chinese parents, each struggling with post-war life in different ways. Between her father's PTSD from serving in the last war, and her mother's harsh attitude towards her in favour of her little brother Teddy, Zadie takes refuge in writing stories where she feels she can escape into her own little world. When it seems like some of Zadie's stories come true, both her and Teddy start to think of her writing as a bit of a superpower (albeit an uncontrollable one).
Soon a new and outgoing neighbour Sparrow enters their lives and reminds Zadie of all the things she so desperately wants, like freedom, a loving mother, confidence, and most of all a dog. So, Zadie starts to write the most important story of her life, a story about a dog called Jupiter and his journey to meet Zadie so that they can both have a happy ending. But what if stories are just stories and harsh realism crushes your dreams? Do you keep hoping or just give up?
Zadie Ma and the Dog Who Chased the Moon is quite a unique story in that it uses several different narrative techniques. There is the main story about Zadie and at the end of almost every chapter there is a mini story (told by Zadie) to tie into something that happened or was referred to in that chapter. We also then have the story of Jupiter scattered through the novel, which is told not only through Zadie's short stories, but also told visually through comic panels, and then it meets up and connects with the main storyline.
While I enjoyed these differences, I can see that to certain readers it may seem confusing and distracting from the main story. Some serious themes are also dealt with throughout the novel such as emotional neglect, PTSD, and xenophobia, though none of these drag the novel down and instead it is used to highlight the good as we also see themes of community, friendship, family, courage, and acceptance of others.