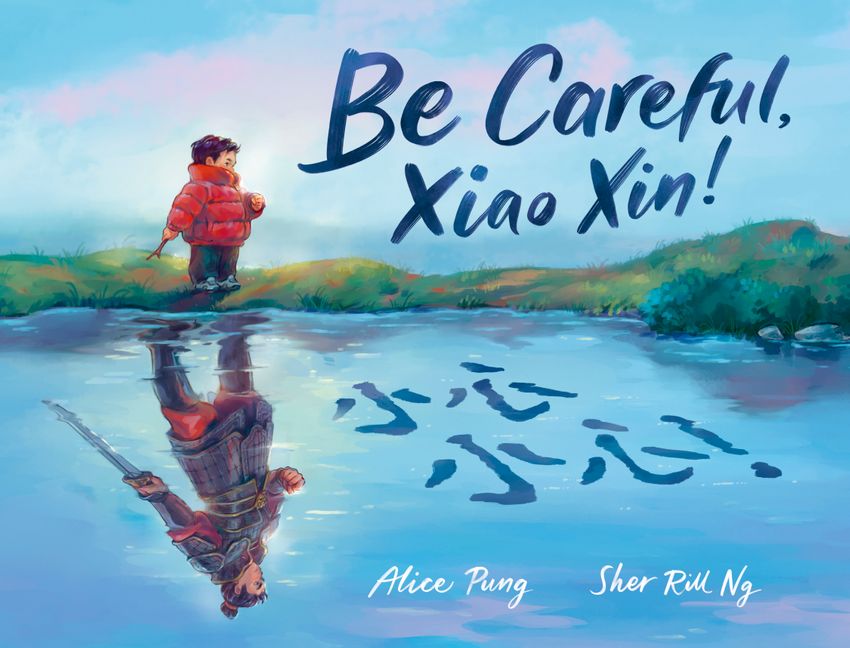 Be Careful, Xiao Xin!
Alice Pung and Sher Rill Ng
Reviewed by  Sandhya Parappukkaran
From award winning author Alice Pung and renowned illustrator Sher Rill Ng, here is a gem of a book. Be Careful Xiao Xin is a powerful story about love and conquering fears. The story follows an overprotective family who believe the world is a dangerous place for a little boy on his own.
When I sit with my son and we take in the cover of this gorgeous book, he says 'Whoa! Look at that reflection.' Xiao Xin's reflection appears as a Red Fire Warrior, which he believes himself to be. However, his family are constantly catching up with him with reminders to be careful, rug up, don't go too high, don't do this and don't do that. 'They're so protective,' says my son as we read.
Xiao Xin's frustration is evident from his stiff shoulders and the determination in his eyes as he tries to get away from his family. There is a poignant spread where Xiao Xin watches other families interacting with their children in affirming ways. It is heart wrenching to see him consider that his parents might not love him as much as other parents seem to love their kids.
This reminds me of all the times I have considered this very thought and the times when my son has talked to me about the different ways different families interact and what that means. Children are highly perceptive of such matters, and I am so grateful for the spreads that dip into Xiao Xin's family's past. It is only on our second reading that my son connects how their past influences their present actions and he realises they are indeed fuelled by love. He is excited to find this link and the understanding helps him empathise with Xiao Xin's family.
Nonetheless, Xiao Xin needs his family to know what he can do. He manages to slip unnoticed into the park and let his Red Fire Warrior loose, while his family are frantic searching. In a most touching reunion, we see children and adults learning to overcome fears and one generation guiding the other onto solid grounds of confidence and trust.
Sher Rill Ng's characters are lively with movement and emotion and there is so much to read from their body language. The stunning illustrations on glossy pages soak up the most gorgeous blues and greens, moving between light and dark shades, while little Xiao Xin stands out defiantly in his red puffer jacket. His inner Red Fire Warrior is truly magnificent too.
Be Careful Xiao Xin, a sensitively and bravely told tale is bilingual with English and Mandarin text side by side. This remarkable story will surely be relatable to all ages and undoubtedly fill the hearts of all those who read it.