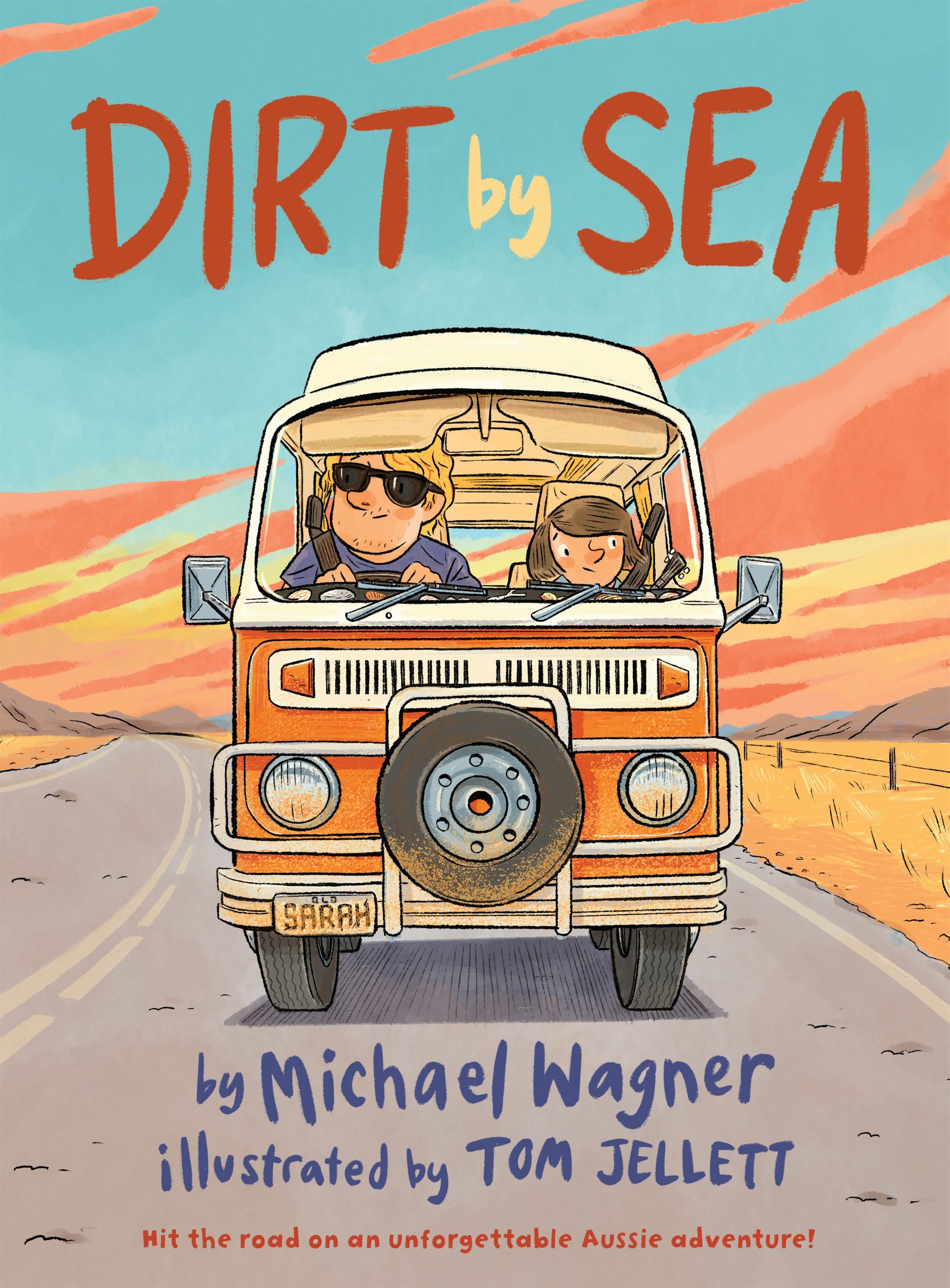 Dirt By Sea
By Michael Wagner
Illustrated by Tom Jellett
Reviewed by Mia Macrossan
Michael Wagner is a children's author, speaker and storyteller. He writes for early childhood and for older children and his recent books include Why I Love Footy also illustrated by Tom Jellett. Tom is an acclaimed children's book illustrator whose work includes a series about a little pirate (The Littlest Pirate), books about a teddy bear called Ted (Ted Goes Wild, Ted Gets Lost and Ted Hits Town) and the Sporty Kids series.
Dirt by Sea is hardback picture book illustrated in comic book style about a father and his daughter travelling to some iconic places around the Australian coast. Daisy has never seen the ocean prompting Dad to take out the old Kombi van on the summer trip of a lifetime, starting from their place in Eromanga in outback Queensland. I won't list all the places they go to or the adventures they have, but they include eating oysters for the first time, celebrating new year in Byron Bay, riding quad bikes and playing I spy across the Nullabor.
Its all about exploring the country you live in, making memories and reliving others ( Dad and Daisy's Mum first travelled around Australia in the Kombi). Its funny and amusing throughout. Daisy and her Dad have a great time together, encouraging each other to try out new experiences, sometimes with mixed results as they don't always agree about everything.
The dialogue keeps the information light and is occasionally sprinkled with Australian slang – Daisy is shortened to Daze, Nan calls her Poss, and Dad goes 'to the toot' at the campsite. Many children will enjoy recognizing places they know, maybe they have had similar experiences.
The book is a carefully structured and beautifully illustrated adventure from the blank Australian map that starts the story to the final endpaper featuring the same map with all the names and places and commentary added in by Daisy.
Dirt by Sea  manages to be quite informative about our country as well as a thoughtful portrayal of a loving father and daughter having a great holiday together. It would be a great gift for an overseas visitor or an at home armchair traveller and deserves to be in every school library..