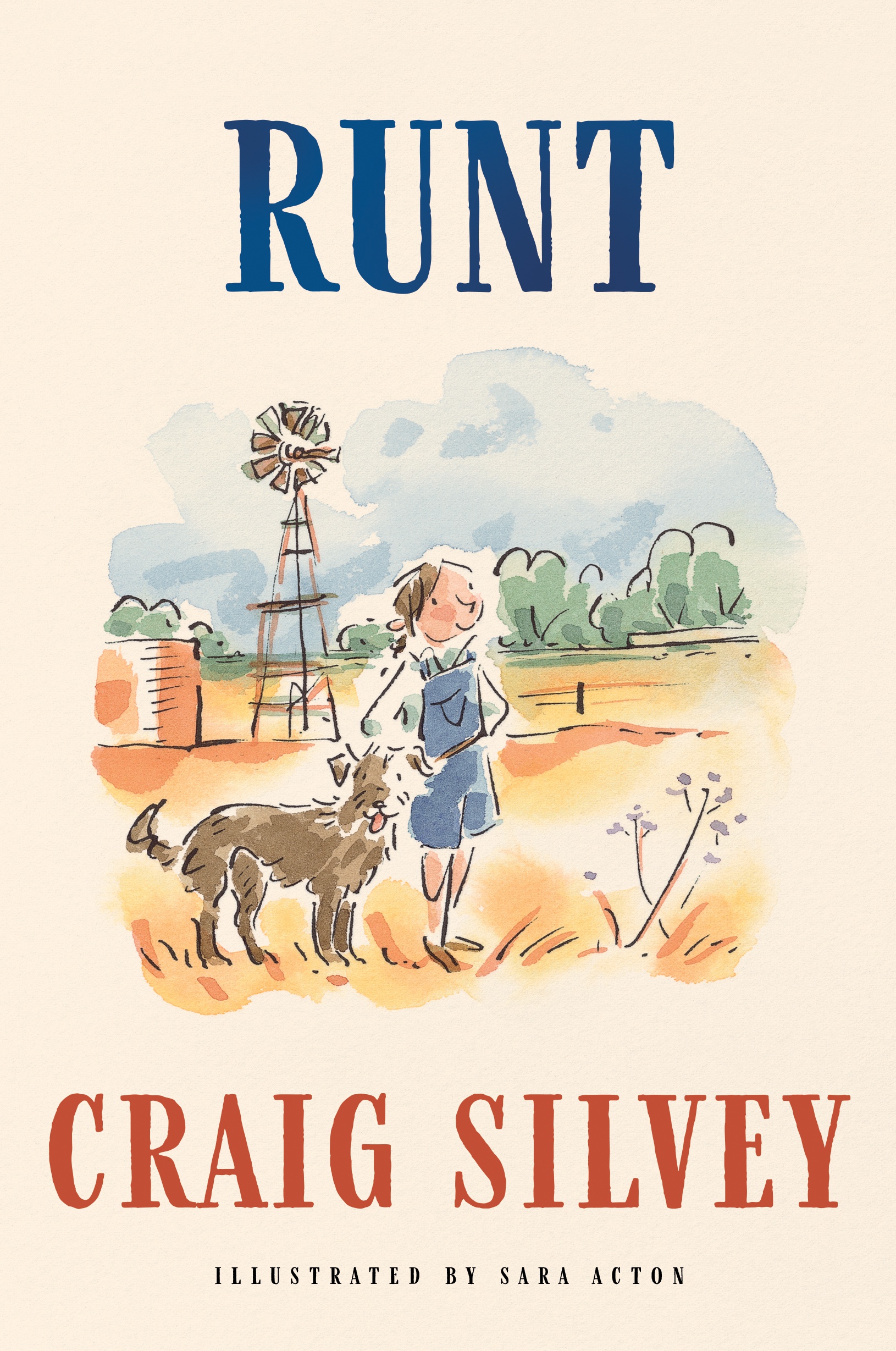 Runt
By Craig Silvey
Reviewed by Mia Macrossan
Craig Silvey is an author and screenwriter from Fremantle, Western Australia. His award winning and best selling titles include Jasper Jones and Honeybee, both aimed at an older audience than readers of Runt.
This is a quirky humourous story of a girl, Annie, and her dog, Runt, firmly aimed at pulling all your heart strings. The pair are unusual –  Annie doesn't laugh or cry, is a loner at school but then she befriends a stray dog surviving around the town and they become firm friends. The town, in the outback somewhere, is in dire straits because of a big evil landowner, a wonderful portrait of sterile selfishness.
Annie, a determined, resourceful, deeply loving and loyal person, part of a loving family, trains up Runt to compete in the Agility Course Grand Championship at the lucrative Krumpett's Dog Show (Cruft's in the real world)  in London. It is vitally important to her as the prize money could help pay the bills, overdrafts and debts hanging over her home. There is an unscrupulous competitor, suitably named Fergus Fink, who actually prefers cats to dogs, who tries to stop her every step of the way. He is another masterful portrait, this time of vanity and blind self regard.
The story is full of incidents showing the eccentric Shearer family in action. The ending is perhaps a little too neat, too treacly, as absolutely everyone gets what they want or need, or not, according to their desserts, but no doubt very satisfying for its intended readers.
Craig has lots of fun writing this story, particularly when giving our names : Upson Downs, Earl Robert-Barren (robber baron, get it), Pedigreedy Breeds, Camilla Crowne-Jewel (one of the commentators at Krumpett's), Froth, the owner of the town pub, and as for the competing dog names!
The whole is very filmic, with slapstick episodes interspersed with clever dialogue, emotional heart tugging scenes and witty descriptions. It would, dare I say, will, make a wonderful film. The tone is direct and down to earth sprinkled with the occasional Australian colloquialism. While reading you may need a box of tissues handy. but you will smile at the same time as the mood stays light throughout even though serious themes underpin this story. It touches on the importance of family, the unimportance of possessions, believing in yourself, and most importantly understanding and accepting yourself.
This cleverly written, sensitive story of a girl and her dog has all the ingredients to become an Australian classic, with similar appeal to Babe the Sheep-Pig by Dick King-Smith, and the film that was made from that book.