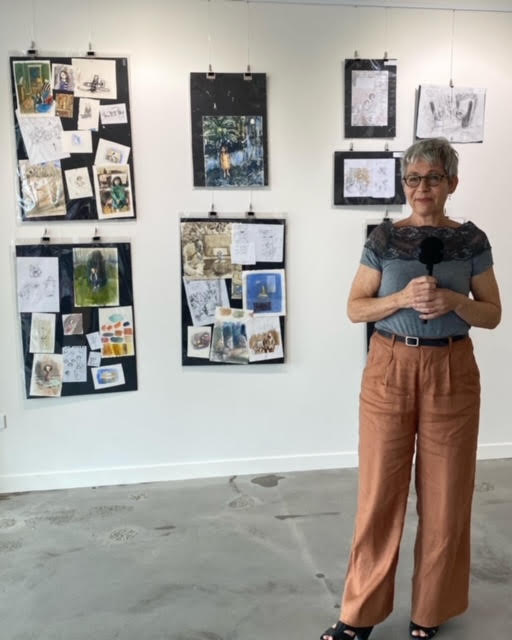 Painting for Picture Books: A Guided Walk through Piano Fingers
Lara Cain Gray in conversation with Caroline Magerl
"There's no cure for what ails creative people," said artist, author and vivid storyteller Caroline Magerl as she guided visitors around Piano Fingers, an illuminating exhibition of picture book art, running throughout October at The Write Gallery, Toowoomba.
Caroline's stunning book of the same name tells the story of Bea, who is from a big musical family, but has yet to connect with an instrument of her own. With the help of Maestro Gus, the enigmatic cat who appears when the student is ready to learn, Bea discovers her piano fingers.
This precious opportunity to peek behind the curtain of Caroline's processes reveals much about the creative imagination as well as the complexity of contemporary picture book illustration.

Caroline spoke with honesty and humour about her compulsion to create, admitting she cannot even hear the world around her once she begins to focus on a painting or drawing.
Caroline has written and/or illustrated over 30 children's books, and regularly exhibits her art in Australia and the UK. To provide context for the current exhibition, Caroline talked about her childhood and early publishing projects, beginning with the influential picture books given by her German grandmother.
"Picture books are where we first learn the language of imagery," she said, reminding us of the power of picture books on the young imagination, and how that visual repertoire then becomes part of our lifelong literacy journey.
The Piano Fingers exhibition itself is a journey, showcasing the development of Caroline's acclaimed book from ideas to sketches, drafts, edits, and completed works. There are collages and fragments of work-in-progress alongside storyboards and captivating framed portraits.
It is fascinating to follow the changes to central characters, Bea and Maestro Gus, as they move from black and white fledgling concepts to realised protagonists. Early drafts also include a bear who disappears in later edits, but somehow – Caroline mused – needed to be there at the beginning to help push along the plot development.
There are additional illustrations on display, too, that have never appeared in a book. Much like the 'bear phase', as Caroline calls it, these paintings formed part of the story building process, as the talented author/illustrator explored colour, light, layout and narrative concepts on the path to a finished publication.
A plush Gus – also made by Caroline! – currently holds court in the Write Gallery, appropriately sitting atop a piano as though watching out for the next apprentice! This open, airy cultural space – with its perfectly placed feline centrepiece – will host artist talks, children's interactive activities and musical performances to complement the exhibition during the month.