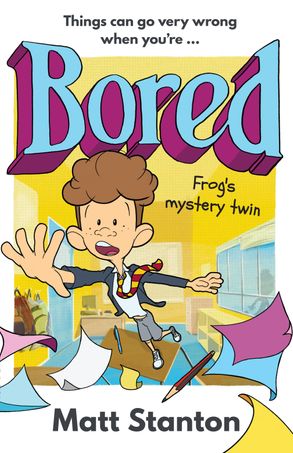 Bored: Frog's Mystery Twin
By Matt Stanton
Reviewed by Sarah Custance

Matt Stanton is the bestselling author behind the comedic Funny Kid series and The Odds graphic novels. Frog's Mystery Twin is the second book in Stanton's newest series Bored, with the first being Milo Finds $105.
This time as we return to the kids living in Turtle Place, we focus on the newest resident Frog. As Frog tries to adjust to life on Turtle Place as well as find his place in class 6B, he decides that he'll only do things that he enjoys. And at this point in time, he enjoys making up an identical twin brother ALSO named Frog! It begins as tremendous fun to annoy Luisa and shift her mean focus off of him and onto something more ridiculous.
Soon he even has Evie, his neighbour in both the classroom and on Turtle Place, helping with doctoring pictures and setting up an amazing video chat with this mysterious twin to prove that he's real. However, Frog quickly loses focus on what is fun and what is going too far, and now he must find a way to win back the trust of his newfound friends.
Matt Stanton is a master of comedic writing. He has a wonderful way of making books incredibly engaging and silly while also containing moral lessons and some serious issues. Frog's Mystery Twin is no exception as the reader gets to enjoy a giant tortoise ballet/interpretive dance, ingenious photoshop and a risky video chat, and a colossal night-time chalk invasion, all while making sure the reader understands that lies often spin out of control and the most important thing is to be true to yourself with the support of the family and friends around you. Bored: Frog's Mystery Twin is a funny, easy, and instantly likable read for younger middle-grade readers.