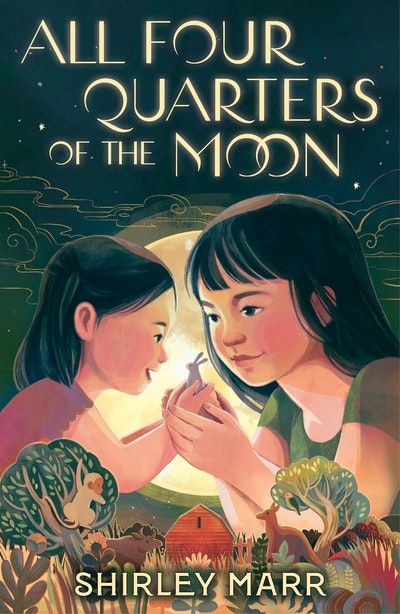 All Four Quarters of the Moon
By Shirley Marr
Reviewed by Sarah Custance

Shirley Marr is a Chinese-Australian author currently living in WA, she writes for both YA and middle-grade fiction. Her book A Glasshouse of Stars was the 2022 CBCA (Children's Book Council of Australia) Book of the Year winner for Younger Readers. All Four Quarters of the Moon is Marr's 3 book for middle-grade readers.
Peijing Gou is 11 years old when her father decides that the family (Peijing, her 5-year-old sister Biju, their mum, himself, and their grandmother) would be better off moving from their apartment in Singapore to a house in Australia. The entire family have mixed emotions about the move, but Peijing knows she must be there to help little Biju and keep the Gou's family honour by listening to her parents and leading by their example.
When the family arrive in Australia, they are each shocked with how different everything is, from the way the earth and sky look, to how families treat each other, and school is held. As they all try to adapt to their new lives, some things come easier than others. When both of Peijing's parents start to act abnormally and Ah Ma (their grandmother) starts to forget who everyone is, Peijing feels trapped between keeping the old traditions and aspects of family honour alive and accepting her new life and finding her place within it.
All Four Quarters of the Moon is an utterly captivating new novel about the struggles of life after migrating to another country and how that affects everyone differently, even within the same household. The book talks about the struggle of trying to live a new life while still feeling like you are split into two conflicting parts. With major themes of friendship, family, traditions, honour, anxiety, immigration, the book also gently touches upon themes of racism, poverty, and even domestic abuse.
While the book is mostly told from Peijing's point of view, at the beginning of every chapter there is a small section where Biju retells old Chinese folktales to her sister (with a bit of her own spin on most of them), this ties in wonderfully with the story as a whole and adds a touch of magic to the book. This is a fantastic book to help promote empathy and understanding of how hard it is for families to move to a new country and start all over again. While the book is set in the 1980's, there is a timeless feel about it that ensures there is something for everyone as readers will find elements of themselves or people they know in each of the characters.