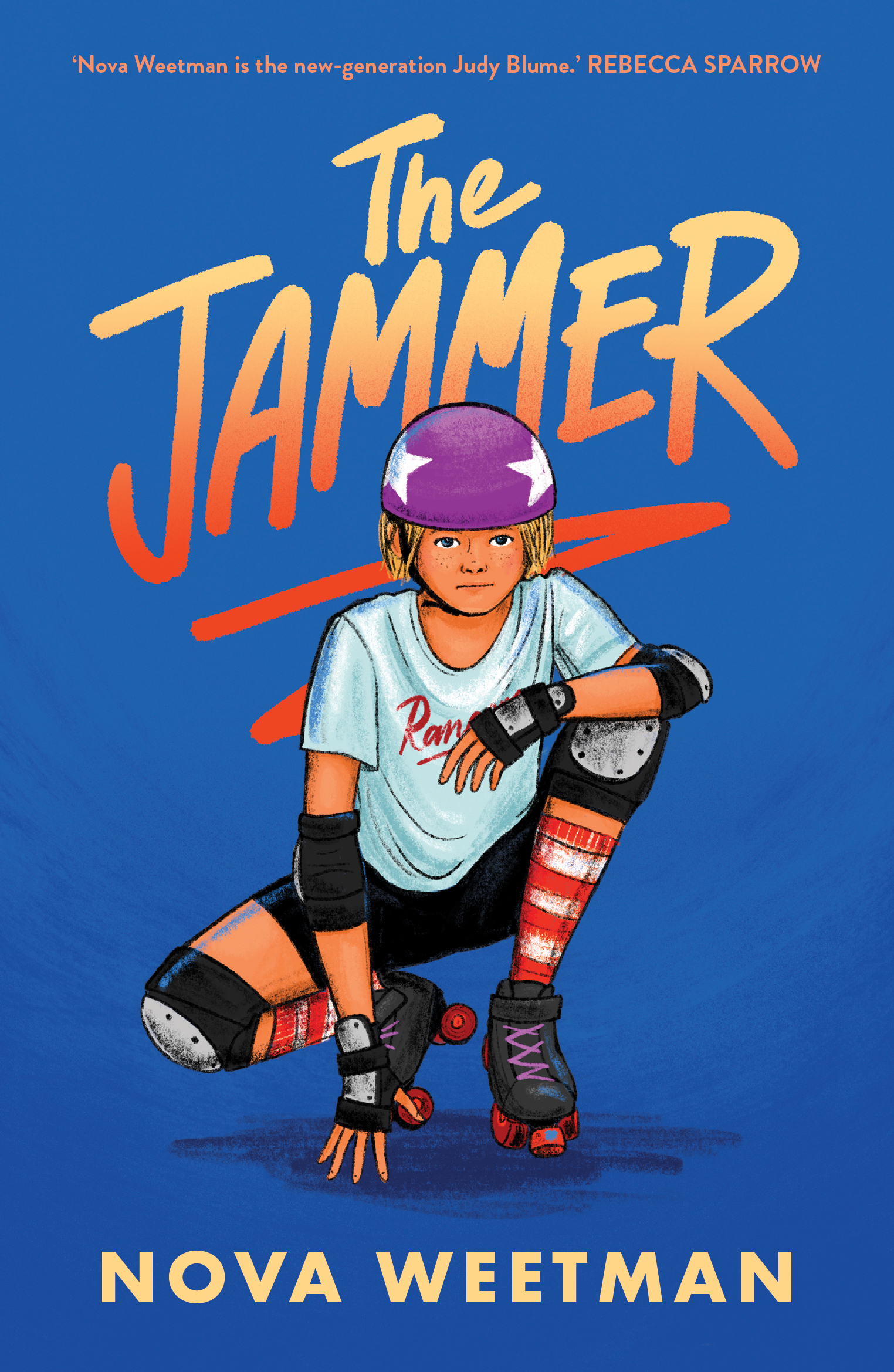 The Jammer
By Nova Weetman
Illustrated by Jessica Cruickshank
Reviewed by Melissa Salisbury
Nova Weetman is the award-winning author of many middle grade and young adult novels. In The Jammer she delivers another deeply satisfying story about love, loss, grief, growing up, connections and finding your place in the world.
When twelve-year-old roller-derby playing Fred's mother dies her world is turned upside down. But unlike the people around her, Fred doesn't want to talk about her mum or her grief. Furthermore, fearful that playing roller derby without her mum would mean she's left her mother behind, Fred vows never to play again.
Fred and her father take a road trip to Melbourne to visit her mum's family and friends. Fred can't see where she fits in, and no-one seems to know how to help her grieve. On top of all this, Fred's changing body causes her angst, particularly as she can't talk to her mum about it.
Slowly Fred lets others share little moments of her grief. Her dad, step-uncle, new friend Sammy, and her mum's friend Maxine, provide a sense of community and belonging. Ultimately, Fred realises roller derby will connect her to more vivid memories of her mum, not the memory of her dying.
Weetman masterfully weaves the threads of Fred's story of grief and how it affects her relationship with her dad, her changing body and the onset of her period, and her passion for roller derby.
Fred is a well-drawn, sympathetic character who, while almost drowning in grief, isn't bratty or self-indulgent with her feelings, nor is she clawing for sympathy. We meet a character who is struggling to figure out who she is, where she fits and how to deal with the all-consuming grief she is experiencing. Fred is ably supported in the story by the other main characters in the book, especially her father, who shows how people grieve in different ways, her step-uncle who demands nothing of her in terms of sharing their grief, and Sammy, who provides friendship and keeps roller derby front and centre, without being connected with her mother.
Roller derby is almost its own character in the book, and Fred's grief-dealing process reflects roller derby's roles of blocking and jamming – at the start she can't break through the grief, but by the end she's found the opening she was looking for to help her move on. Roller derby also ultimately provides that place of connection and belonging Fred needs.
There are plenty of words that seem appropriate to describe this story; heart-breaking, heart-warming and poignant being amongst them. But the two words that sprang to mind for me were real and raw. Weetman has spoken about hers and her children's grief after the death of her partner, and how that grief fed into this book. This story gives a palpable sense of that period in Weetman's life. However, at no stage does the story feel morbid or hopeless.
If you've been a fan of Weetman's books up until now, this book will keep you hooked. If you haven't read her books, you will be a fan after reading The Jammer.