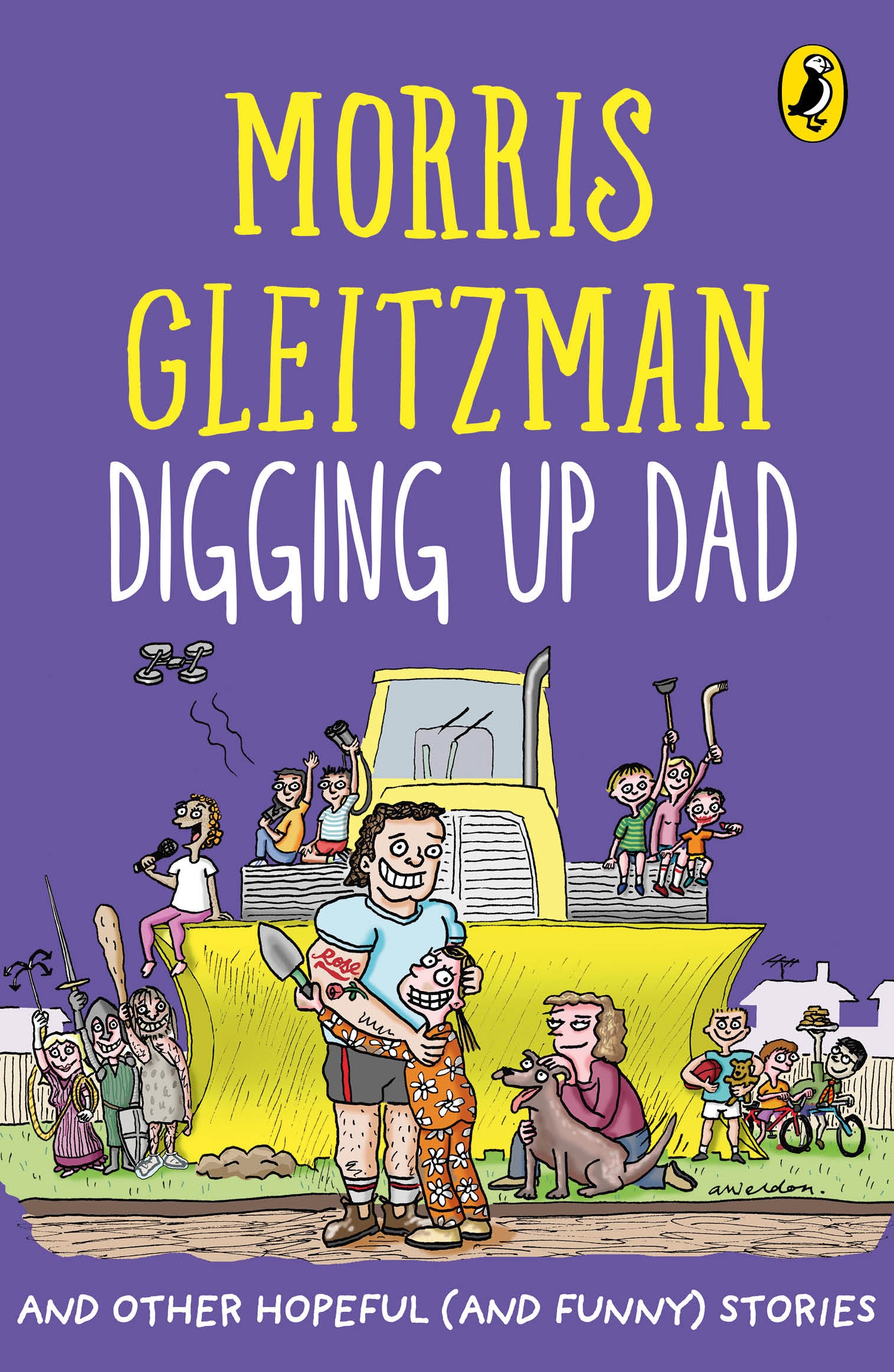 Digging Up Dad And Other Hopeful (And Funny) Stories
By Morris Gleitzman
Reviewed by Barbara Braxton
Over 30 years ago, Morris Gleitzman was so overtaken by an idea for a story that he says came from nowhere that by the time the afternoon was up he had the outline completed and the journey of Two Weeks with the Queen had begun. Not only was it life-changing for Morris, but it had a profound effect on children's literature at the time for while there were many authors writing wonderful stories for young readers, this one was contemporary, featured characters and situations that resonated with its audience, and his way with words appealed to boys who were on the cusp of being able to read but turning away from it as a leisure time activity.
As well as a host of other novels, his iconic Once  and Toad series, Boy Overboard and Girl Underground, and his collaborations with Paul Jennings, Gleitzman has also written anthologies of short stories including Snot Chocolate , Pizza Cake , Give Peas a Chance, and Funny Stories and Other Funny Stories . Digging up Dad is the latest addition to that collection and once again, readers are treated to short stories that are contemporary, realistic, real-life incidents that focus on children helping adults to be their best selves.  The title story is particularly poignant as Rose battles the problem of having to leave their rented house – the only home she has ever known – and leave her dad behind because his ashes are scattered in the garden.
Gleitzman says he enjoys writing short stories. "You get to play with enjoyable and interesting and sometimes silly ideas that are not quite big enough for a longer work. Perhaps 'not quite big enough' isn't the right way of saying it. Perhaps 'not quite sensible and believable enough' is closer. Some short stories grow out of very big ideas, but when you're only asking readers to hang in for a few pages you can present those ideas in a slightly more exaggerated and comedic way. In a way that, if stretched over a couple of hundred pages, might well have readers thinking, hang on, that's not very believable and not even that funny any more."
And so are they perfect for readers who need a break from intense novels, often analysed until there is no enjoyment left, or who just want a short interlude from life while they re-gather their thoughts.  Teachers also love them because they're perfect for filling in those final few minutes and with Gleitzman's work, you know you are presenting quality literature that is likely to build a taste for his other works.
There is a reason that books by Morris Gleitzman did not stay on the shelves and there was always a long reserves list;  why he won the Young Australian Readers' Award in 2002 for Boy Overboard among many other awards over time; and why, 20 years on, he is still writing for kids and entertaining and delighting them.  If your students haven't met him yet, then now is the time to ensure they do.