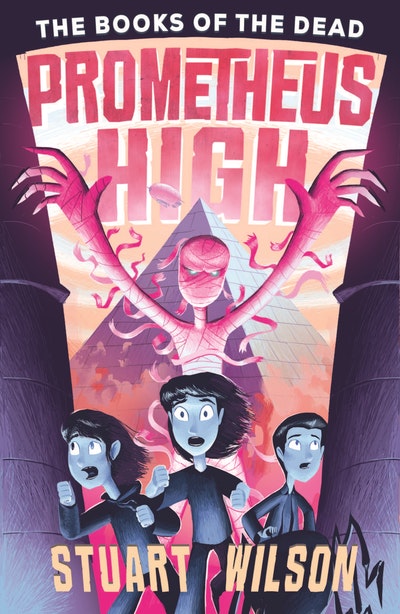 Prometheus High: The Books of the Dead
By Stuart Wilson
Reviewed by Sarah Custance

The Books of the Dead is the second novel in the Prometheus High series by Melbourne based author Stuart Wilson, with How to Build a Monster as the first book.
After being rescued from the Unbound (the cruise vessel-turned-school they were on for semester 1) the students are now on the airship Atet for their second semester at Prometheus High, which is currently moored at the Giza complex in Egypt. After a disastrous first term, Athena is looking to keep her head down and not get into trouble but is finding that to be harder than it seems as she has promised to help Marceline investigate her past and find her Creator.
As their friend Godfrey is still in the dark about Marceline being a Creation (a re-animated being), he finds himself often being abandoned by the girls as they go off on secret missions, and he finds himself being embroiled in two other classmate's schemes. With grave robbing, booby-traps, amputations, secret chambers, and an army of mummified cats, both teachers and students will need to learn the importance of friendship and relying on others in order to survive the school term! In a school where magic and science combine, and it is routine to experiment with the line between the living and the dead, anything can, and probably will happen.
This is not a standalone read; the series needs to be read in chronological order to fully understand the characters and their motivations throughout this book as very little re-capping is done. Where How to Build a Monster is mainly focused on Athena and her story having just joined Prometheus High, in The Books of the Dead the viewpoint switches between Athena, Marceline, Godfrey, and even some of the teachers. This approach works extremely well as the reader is pulled in by the first book and now in the second, we get a more in-depth look into the lives of the other characters and their backgrounds.
The whole series has an emphasis on the moral and ethical dilemmas that come with dealing with the dead and their property (when does archaeology become grave robbing) but it is all the more impactful in this book as we are reading about the pyramids and the artifacts that were/are contained within. The Books of the Dead is a wonderfully fast paced adventure read that is almost 2 stories in 1 as we follow Athena and Marceline as they break into libraries and pyramids, and then we follow Godfrey as he stays mainly on the zeppelin to deal with the awakening of an uncontrollable ancient force. Full of Egyptian mythology and science readers will not be disappointed in this sequel as we once again delve into the lives of the students at Prometheus High.