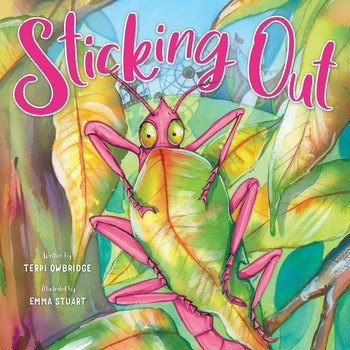 Sticking Out
Written by Terri Owbridge
Illustrated by Emma Stuart
Reviewed by Margarite Igras
Terri, a proclaimed introvert, in her debut picture book shares her valuable life lesson, that social interaction can be fun. The colourful, lively Illustrations  by Emma Stuart add emotional depth to the story. On the cover, she has beautifully captured the essence of a concerned pink insect trying desperately not to stick out amongst the foliage.
The annual Spring Festival has arrived with all its colourful bugs and noises. But shy Simon, the stick insect, can only look from a distance. He uses his skills to hide from the other bugs in the garden. He could freeze on the spot or sway gently in the breeze or change colour. Surprisingly, on this occasion when he left a rose, he stayed a glowing bright pink. He was shaken to the core and dreaded the other animals staring and laughing at him. The magic gypsy moth at the festival can help, but will Simon have the courage to go there to see her.
Simon learns that he doesn't stick out in a bug crowd awash with colour. The red beetle, luminous green caterpillar, striped bees, and yellow worm don't care how pink he is, they just want to have some festival fun.
The verse text is a delightful read. The rhyming words and friendly font, sets a safe tone for the big leap Simon needs to take.  There are one or two stanzas of verse on each double page, with the occasional large text for emphasis. The bright watercolour illustrations fill the pages with colourful insects that are full of life and with very expressive eyes.
A fun book for young children with a lesson on taking a chance and realising that your own unfounded fears can stop you from doing things and making new friends.