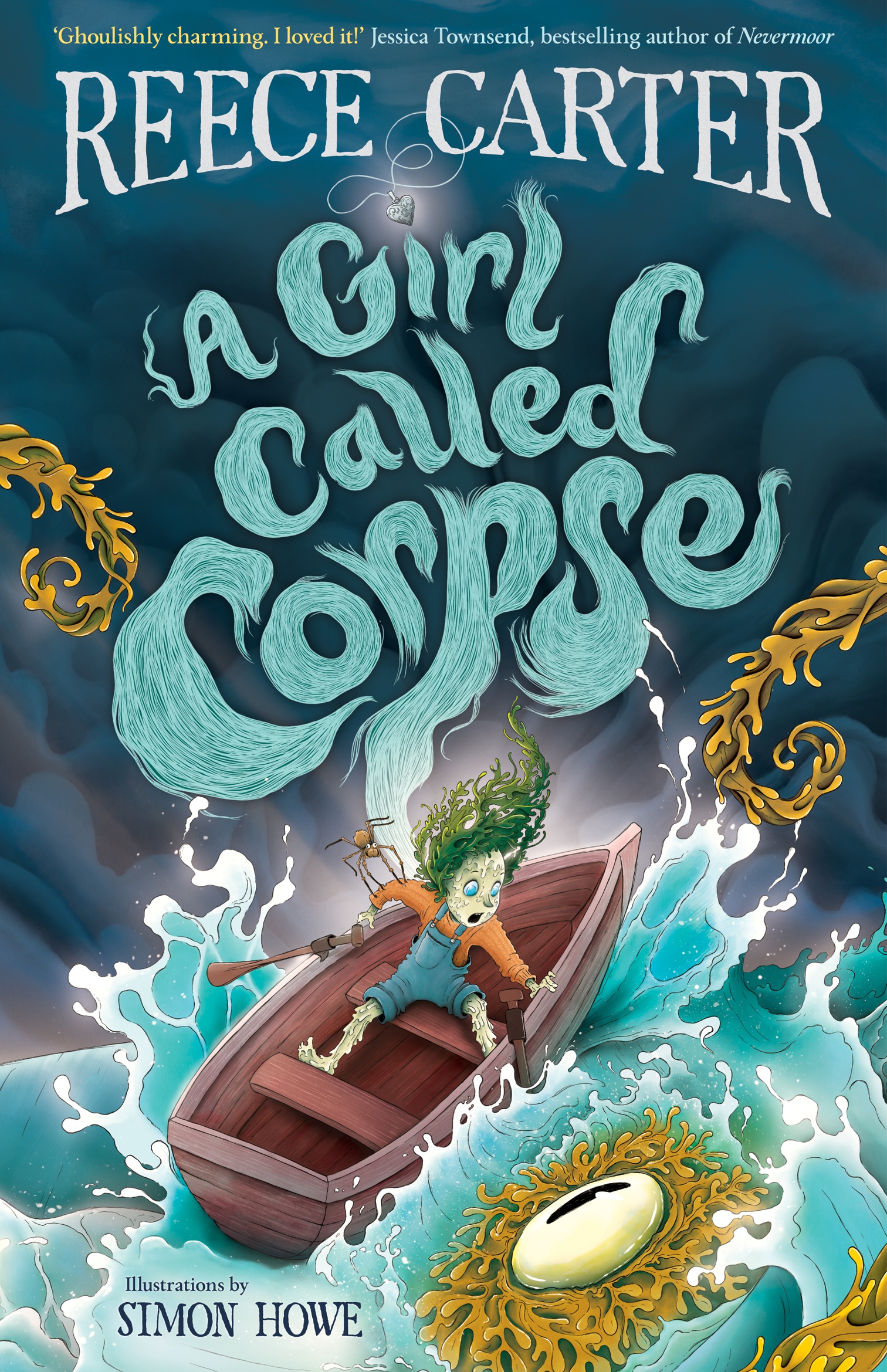 A Girl Called Corpse: An Elston-Fright Tale
By Reece Carter
Reviewed by Mia Macrossan
I nearly didn't read this because I got turned off by the title* – I wasn't sure I wanted to read a book about a girl called Corpse but I'm so glad I did. This debut novel by Reece Carter is a fabulous adventure story about a girl trying to find her lost memories which she hopes will give her clues about her family.
Ok, she is a ghost with a body made of wax, seaweed hair and abalone shell eyes, who lives in a rickety old shack built from rotting stilts and decaying scrap metal, in cave on an island that cannot be seen by normal people.
Her best friend is a spider called Simon, who talks in clicks. Corpse did have another friend called Girl but she disappeared. After meeting an Old Man ghost Corpse is on a quest to find her true name. She has to contend with three evil witches, a cruel spell merchant and a sea monster. The witches are three deliciously evil and creepy men called Scraggleknee, Gorflunk and Worst-Witch, the cruel spell merchant is cold and menacing and there is totally threatening, bewildering and unforgettable sea monster as well
Corpse, despite her unfortunate name, is a spirited character, full of life, ha ha, despite being dead. Reece describes her as ' a girl … who was prickly, stubborn and lonely. Sure, she was a little bit scary, but I knew she had a good heart too.' (Reading Notes) The whole created world has vivid characters and original magic which is a joy to discover.  Reece makes lots of jokes throughout about being dead and a ghost, and not really having a body which will appeal to young readers.
The writing is fresh, witty and original with snappy dialogue and memorable descriptions. The theme of finding your family is  perennially appealing. Yes, it can be spooky and scary, ghoulish and gruesome but it is not at all frightening, perfect reading at Halloween or any time of the year.
* In the UK the book is published under the title The Girl, the Ghost and the Lost Name.
The Reading Notes have useful questions for a book club. The Teaching Resources concentrate on English, Humanities and Visual Arts curriculum elements.