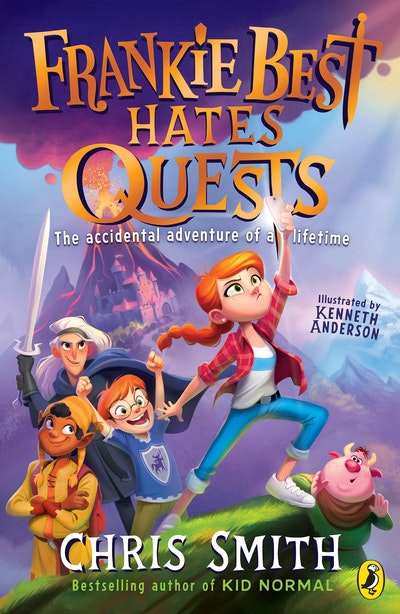 Frankie Best Hates Quests
By Chris Smith and illustrated by Kenneth Anderson
Reviewed by Sarah Custance

UK author Chris Smith is best known for the Kid Normal series that he co-wrote with Greg James, the duo has also written The Great Dream Robbery. Frankie Best Hates Quests is Smith's first solo novel with illustrations by Kenneth Anderson.
12-year-old Frankie hates many things. To list just a few: no WiFi, adventures, the outdoors, nerds, her 8-year-old brother Joel, dirt, magical creatures, made-up places, quests, fantasy, and most of all, Springle's Quest (a video game that her parents made). So when Frankie and Joel find themselves in the magical land of Parallelia, on a mission to rescue their estranged grandfather who has been kidnapped by gnoblins and to reunite the kingdoms custodians with their mystical relics, she is full of complaints and grumblings.
With the help of fantasy loving Joel, a family friend who happens to be a knelf, a food loving gnoblin, and a sword wielding Justice, the fate of the entire kingdom of Parallelia is in the hands of Frankie and her odd fellowship. Will Frankie be able to put aside her hate for quests and embrace her destiny or will the real-world and all of it's peer pressures be too much for her?
Frankie Best Hates Quests is a wonderfully self-aware adventure/fantasy story! Pulling out all of the tropes and stereotypes it is wonderful to see how characters who can predict what is going to happen still manage to find themselves in trouble. There is also a lovely message throughout the book about finding the courage to be yourself and admit to liking things that other people dislike.
Kenneth Anderson's illustrations really add a fun and magical quality to the story and help to give the characters their own unique styles and expressions. Frankie Best Hates Quests is a very fun, light-hearted, and relatively quick read about family, friendship, courage, and most of all, quests!