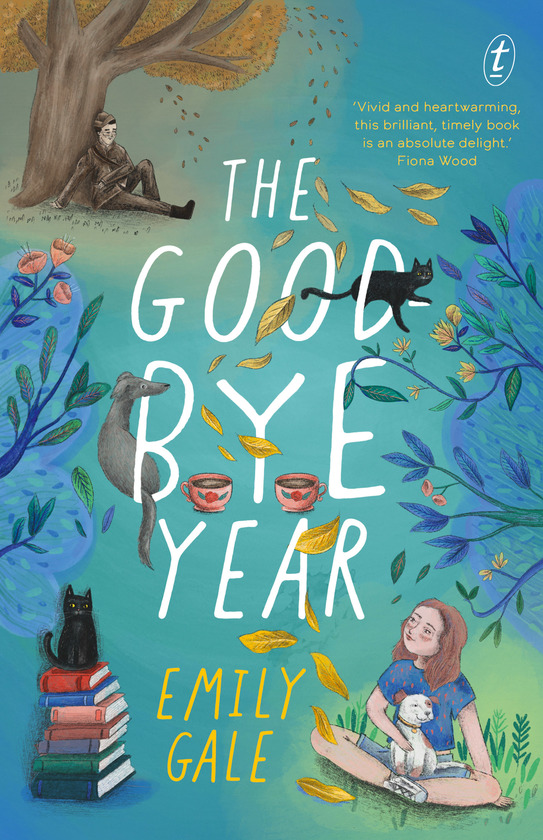 The Goodbye Year
By Emily Gale
Reviewed by Sarah Custance

Australian writer Emily Gale is the author of the very well received books, The Other Side of Summer, We Are Out With Lanterns, the Eliza Bloom Diaries, Steal My Sunshine, and Girl, Aloud. She also wrote Elsewhere Girls with fellow author Nova Weetman. The Goodbye Year is Emily Gale's lates middle-grade novel.
11-year-old Harper knows that 2020 will be a year of change, it's her last year at Riverlark Primary and she is ready to make some memories with her best friends! What she doesn't count on is how much things will really change in 2020. First her two best friends are chosen as school leaders and suddenly have a lot less time for her, then her both of her nurse parents decide to take a job overseas in a war zone, this leaves Harper having to live with her grandmother Lolly who she barely knows (despite only living a few minutes away), then Covid hits Australia and schools are forced into lockdowns.
Just as Harper thinks things couldn't get stranger, she finds herself communicating with the ghost of a boy who went to Riverlark and died on the battlefields of Gallipoli. Can Harper manage to both help the ghost and somehow find a way to make the best of last year in Primary?
The Goodbye Year is a wonderfully written book that weaves its way through many different issues and historical moments in a very engaging and sensitive way. Set in 2020 Melbourne the reader is invited into what the lockdowns looked like in one of the most affected States, as well as through the eyes of a year 6 student. We see the similarities between the spread and impact of Covid vs the Spanish Flu, delve into the lives of youth as they were vying to serve in WWI (both boys and girls), and the overall themes of change, anxiety, family, friends, bullies, the impact of the past, and how growing up means taking charge and finding yourself in your own unique way.
The Goodbye Year is an incredibly interesting historical novel in the fact that it does talk about the history we know surrounding the Spanish Flu and WWI but also in the fact that it talks about the legacy of Covid, which is a modern event/issue that will go down in history in much the same way.