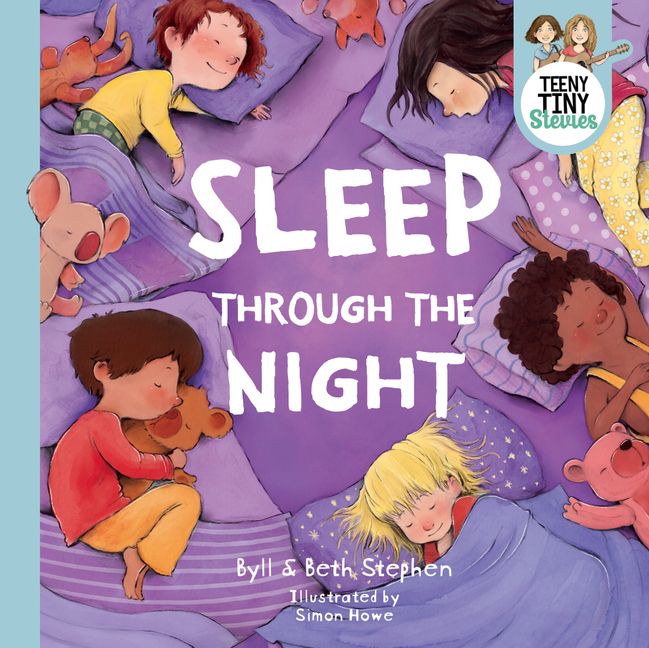 Sleep Through the Night (Teeny Tiny Stevies)
Reviewed by Mia Macrossan
Sisters Byll and Beth Stephen are the  band, Teeny Tiny Stevies which won an ARIA Award for the 2020 Best Children's Album 'Thoughtful Songs For Little People'. Now they have branched out into writing picture books. This one is all about sleep and the differences between how humans and animals sleep.
It's main message is encouraging children to sleep through the night, revealed by the title, and the aim of many a sleep-deprived parent,
Some interesting facts emerge about how some animals sleep: standing up, with eyes open and this is contrasted with how people sleep – lying down, eyes closed. It describes where animals sleep and for how long. It explains how people need to sleep for many continuous hours, that they must be still, that they sleep best when lying on a mattress at home in their own space and that we need to sleep at night.
The illustrations by Simon Howe are delightful. He uses soft colours, smiling faces on all the animals and the many young children shown sleeping throughout. The whole effect is relaxing, peaceful and  encourages rest and sleep.
The  rhyme and  rhythm of the text is irregular which is distracting, as it isn't really prose and it certainly isn't poetry but it probably sounds wonderful set to music.