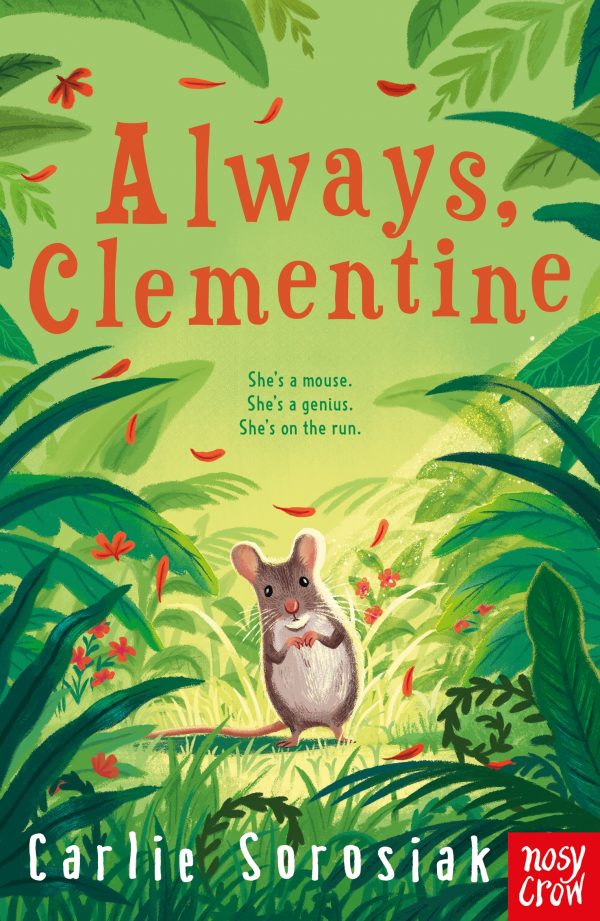 Always, Clementine
By Carlie Sorosiak
Reviewed by Mia Macrossan
Carlie is the author of two novels for young adults, If Birds Fly Back and Wild Blue Wonder and two other middle grade novels My Life as a Cat and I, Cosmo.  She is very much concerned with animal welfare and Always, Clementine makes a very strong case against subjecting animals to experimental testing. According to Cruelty Free International over 100 million animals are used in testing every year, including mice, guinea pigs, rabbits, pigs, monkey, rats, dogs and chimpanzees.
This story is about a mouse, Clementine and her friendship with Rosie the chimpanzee. Clementine is a genius who dreams in Latin, can calculate pi to 69,686 places and has a perfect memory. Both animals are locked in a laboratory but when Clementine is rescued she starts to send letters to Rosie telling her all about her new life. This is how the story unfolds, each chapter a letter to Rosie.
Clementine falls into the care of Gus, a young boy who is spending a month with his Greek grandfather, a former chess champion who now runs a children's TV show called Pop's Hobbies. When they discover Clementine's abilities they teach her chess and plan to showcase her, now dubbed 'Wondermouse', on TV to prevent her being taken back by the Laboratory whose researchers are eager to get her back as they want to dissect her DNA enhanced brain.
It's all very exciting and suspenseful with several near misses, more escapes, chases and some impressive chess games. Gus, Pop and their friends are united in wanting to save Clementine and her fellow escapee Hamlet while Clementine herself yearns to liberate Rosie left behind in her cage.
This heart-warming story full of incident and quirky characters reinforces the serious message about the evils of animal testing but also touches on family and intergenerational relationships and  the nature of friendships, both human and animal.  Children who enjoy reading about an animal protagonist will readily identify with Clementine and her mission, as will chess enthusiasts.