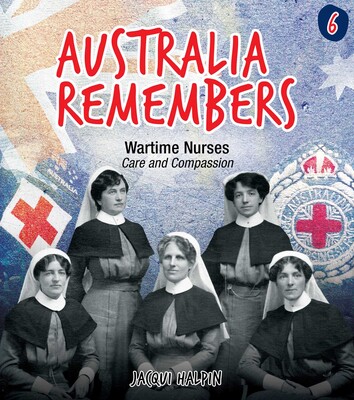 Australia Remembers: Wartime Nurses – Care and Compassion
By Jacqui Halpin
Reviewed by Liane McDermott
Australia Remembers: Wartime Nurses – Care and Compassion is the sixth book in the Australia Remembers non-fiction series. The book takes the reader through a historical journey of Australia's military nurses who have risked their own lives to save others—from 1899 when the first Australian military nursing organisation was formed to the present day, with nurses continuing to serve during times of war, conflict and natural disasters.
Children's author, Jacqui Halpin, is herself a former registered nurse and daughter of a nurse from the 'Call the Midwife' era. Jacqui's love for Australian social history and her talent for story-telling shines through with meticulous research and engaging factual text. While the book focuses on the fascinating history of wartime nurses and their hardships and sacrifices in serving Australia and humanity, this valuable resource provides so much more.
The history of wartime nursing is framed across Australia's war efforts, from the time of the Boer War, World Wars I and II, the Korean War, Vietnam War and Afghanistan, to the continued service military and civilian nurses play today. Alongside the history of war, the resource also includes many interesting facts on medical breakthroughs, diseases and medical care over these times.
Australia Remembers: Wartime Nurses – Care and Compassion is set out across fourteen brief chapters, each focusing on one aspect of wartime nursing, covering topics such as hospital ships and serving at sea, prisoner of war nurses, and the sacrifice of service. With fast facts, questions for the reader to consider, historic photographs and quotes, a glossary and fun activities (like making a Red Cross armband), the book provides an accessible and engaging non-fiction resource.
While this is a valued educational resource, particularly for mid- to upper-primary school-aged children, anyone with an interest in historical fiction will be absorbed in this fascinating reading on the outstanding contribution of our often-forgotten nursing heroes.
Teaching notes are available, encompassing the curriculum learning areas of Humanities and Social Sciences, English, Science, Health and Physical Education, and Arts.