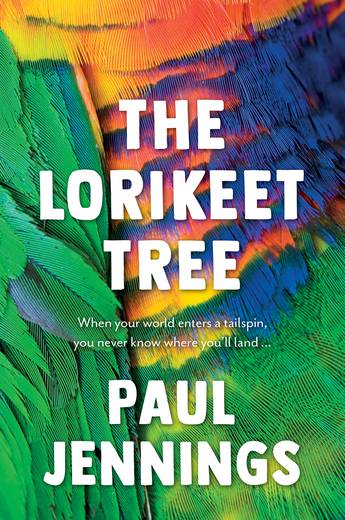 The Lorikeet Tree
Reviewed by Mia Macrossan
Paul Jennings is a household name in the Australian children's book world. He has published numerous books, including Round the Twist which was made into a successful TV series. In 1995 he was made a Member of the Order of Australia for services to children's literature, and was awarded the prestigious Dromkeen Medal in 2001. In 2019 he was awarded a Lifetime Achievement Award by the Children's Book Council of Australia. He lives in Warrnambool where this story is set.
It is told by 15-year-old Emily who lives with her twin brother Alex and her Dad on a reforested property which is gradually attracting back native birds and animals. When her Dad is diagnosed with a terminal illness everyone tries to cope in their own special way.
Alex is brilliant at building and creating structures, which in some odd distorted way he believes will bring the family luck. Emily is more realistic and sees that both Alex and her Dad will need extra care and attention in this difficult time. She is helped by her friendship with Matthew, a young and good looking ranger who visits sometimes.
When Alex wants a kitten, 'just to love', knowing full well of the damage a cat can do to wildlife Emily is furious but realises she has to adjust her feelings to fit into the bigger picture even though she is tired of being the sensible capable one all the time.
This story of grief and letting go has several interconnected themes that readers can unpack. There is the conflict between  loving a house pet and supporting a fragile ecosystem, the conflict between two sibling who each want the same thing but follow very different ways to achieve it, and finally it is all about a family coping with loss and the love binding us all together.
Jennings write in a simple style in keeping with the conceit of this being Emily's memoir for a school project. He is adept at creating tension and foreshadowing and then building to a suspenseful climax. His love of the land and its inhabitants is obvious throughout the story, although I was disappointed to see a reference to 'koala bears' on page 151.
Children, especially those who love nature and animals, will enjoy this sensitively told tale from a master storyteller.