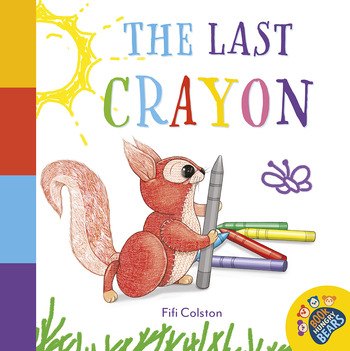 The Last Crayon
Written & illustrated by Fifi Colston
Reviewed by Sandy Driessens
Fifi Colston is a New Zealand writer, illustrator, wearable arts designer and costume props maker for the film and television industry. Her previous work that she wrote and illustrated herself include Where's My Stick.
In The Last Crayon the bright colours, texture and title drew the artist-in-me to this book.
When six squirrels find a box of crayons and a piece of paper, they  each choose a colour that matches their own, and that of something special, like the grass or berries. But what of the sixth squirrel who gets the last crayon, the grey crayon?  It's "The colour of what?", it thinks. This creative squirrel comes up with something wonderful.
Fifi Colston has used simple, easy-to-read prose to complement her delightful illustrations. The wonderful textures of these stitched squirrels, with their shiny button eyes, contrast with the simple, child-like crayon drawings throughout the book.
This gentle book not only teaches colours and numbers, it also has an underlying story of embracing difference, making the most of one's unique features and sharing skills.
 This would be a lovely book to read aloud with little ones. Not only is it educational, it has details that will encourage them to look closely at the illustrations, and perhaps make them want to create their own.