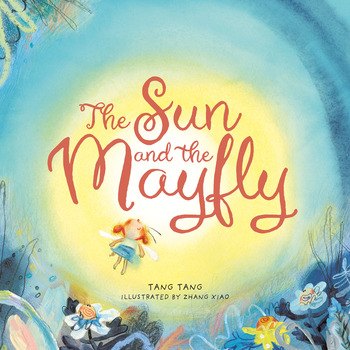 The Sun and the Mayfly
By Tang Tang &  Zhang Xiao
Reviewed by Sandy Driessens
When curious Little Mayfly meets the Sun, they form an unusual friendship. But can the Sun answer Little Mayfly's most intriguing question?
This is the story of a Little Mayfly who hatches from a lake, as the sun rises in the morning and so starts their friendship.  "I'm so happy to meet you!  I only live for one day. Are you the same as me?" asked Little Mayfly. The Sun didn't answer and gradually rose higher into the sky. Little Mayfly is so joyful, exploring the wonderful nature around the lake.
She is friendly and introduces herself to many creatures and flowers. Then she discovers something that makes her cry – the Sun and the other plants and animals live for more than one day. Little Mayfly's response to this revelation will tug at your heart strings.
Celebrated Chinese fairy tale writer Tang Tang has composed a beautiful conversation between Little Mayfly and the world in which she lives. The exchanges with the other characters are informative whilst the emotions shared by her and the sun are delicately captured.
The illustrations by Zhang Xiao have an ethereal quality about them, with watercolours creating an almost magical feel.  Little Mayfly's human characteristics are endearing and her movements through her world, with the light and shadow, are blithesome. A fold out page emphasises the magnitude of the world and of those experiences beyond her reach.  The relaxed font also illustrates an innocence.
I really enjoyed this poignant story. Like all good fairytales it has a message, this one about the wonderful ripple effect of positivity and making the most of the time and surroundings with which you are blessed.
A delightful book for 5 to 105 year olds.
Teacher's Notes