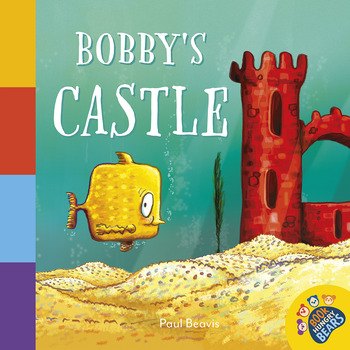 Bobby's Castle
Written & illustrated by Paul Beavis
Reviewed by Sandy Driessens
Bobby is set in his ways … he's the king of his castle. Nothing changes and he likes it that way. Then Salma arrives …
She wants to jump and dive and play with Bobby. Bobby doesn't want to because he is used to being alone and he wants Salma to go away … far, far FAR away. But when she hides and he can't find her, he comes to a sudden realization.
Paul Beavis has created an engaging story with the most basic, child-like vocabulary and joyful illustrations.  Bobby's castle, with its narrow windows, accommodates his shape and when he leaves it to search for Salma, the scene broadens and lightens which could allude to embracing new experiences.  Beavis has cleverly captured the characters of Bobby and Salma using their facial expressions and body shape. His use of primary colours, with a dash of bubbles, makes for a happy aquarium.
This cheerful story about accepting change, exploring new things and building new friendships emphasises finding the positives whether at home or in school when the people and or surroundings change.
This story is excellent for all children 3 years and up in the way it encourages patience, kindness and inclusion in challenging situations in their life.