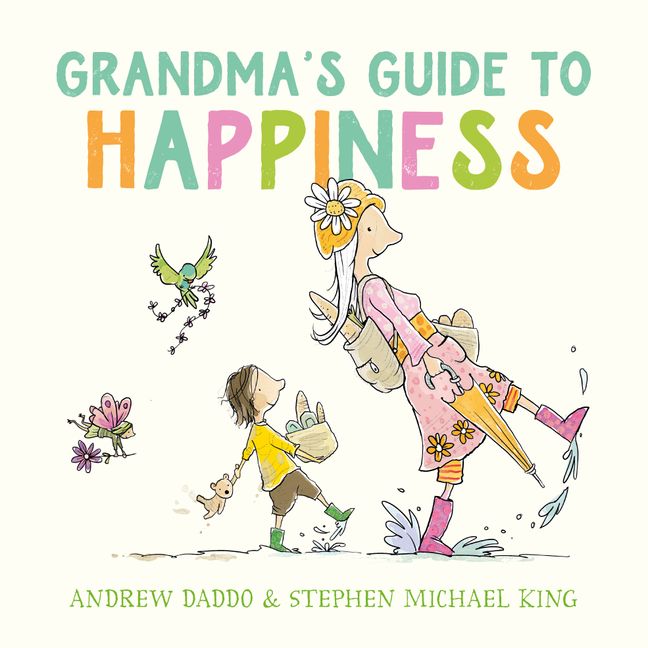 Grandma's Guide to Happiness
By Andrew Daddo
Illustrated by  Stephen Michael King
Reviewed by Mia Macrossan
Andrew Daddo, well known for his work on TV is the author of Goodnight, Me and many others while Stephen Michael King is the much awarded illustrator of more than 80 books.
This charming intergenerational tale is told from a young girl's point of view and starts off Grandma says you don't need much to be happy –  not really. Happiness comes from simple things like puddles as long as you have gumboots, the shoe of happiness.
Grandma doesn't mind mess and is very inventive with mud. In autumn she is full of suggestions for what to do with autumn leaves, how to run down a hill. Writing her name with a sparkler makes her smile every time, and she's done it a lot, as she is about a thousand years old.
This book is lovely in that grandma's suggestions for happiness mean doing simple things, usually outside and doing them together without having to spend money.
What a relief to see that grandma is a perfectly ordinary adult with white hair. She has a slightly 70s vibe with a big flower in her hat and slightly floaty clothes but no glasses or bun!
This child's view of a beloved adult is very taking. It is obvious that these two spend a lot of time together and enjoy each other's company.  A reflective book ideal for sharing. Teachers will find plenty to work with here.