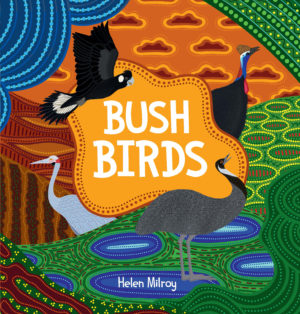 Bush Birds
Written & Illustrated by Helen Milroy
Reviewed by Sandy Driessens
"Little birds, big birds, all different kinds.  How many bush birds can you find?"
From an inquisitive little Blue Wren to an emu booming out his song, this beautiful picture book identifies Australia's unique bush birds.
Bush Birds is the next, in her series of Australian children's picture books by Helen Milroy, the 2021 WA State Recipient of Australian of the Year
Simple sentences with lilting rhyming cadence, describe each bird's physical characteristics. The verbs, embellished with a descriptive drawing, create the movement and song that defines the bird.
On the facing page, Milroy's illustrations complement the text, with the basic images depicting key identifiers of colour, form and gesture. Bright backgrounds of indigenous art, stamp these birds as definitely Australian, while showing the habitat where the birds are found.
The cover and endpapers are delightful and the book is the perfect size for little hands. The quality in production of the book makes it all the more alluring.
This is an appealing, collectable book that is a wonderful starter book to encourage young children to search for and enjoy the wildlife around them. Easy to read and share, I will certainly search for Milroy's previous books.
Side Note:  Prof Helen Milroy was Australia's first Indigenous doctor and is now a highly regarded expert in child and adolescent psychiatry.