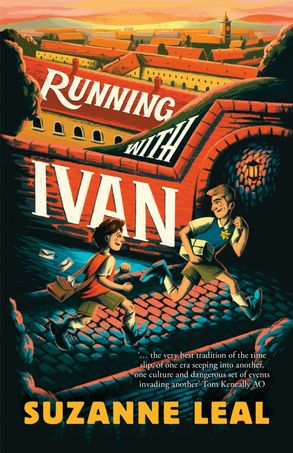 Running with Ivan
By Suzanne Leal
Reviewed by Sarah Custance
Australian author Suzanne Leal is the writer of The Teacher's Secret, Border Street and The Deceptions, for which she has won multiple awards. Running with Ivan is Leal's first novel for younger readers. Set in 2002, the book is a time-slip novel where one character is sent back in time to interact and connect with people throughout different periods of W W ll.
13-year-old Leo hates everything about his life right now. He hates that because his dad remarried his whole world has changed. That he had to move from his familiar home to his new step-families house, that he had to change schools, that his dad changes around Leo's new step-brothers, that he is forced to share a room with his bully of a step-brother Cooper. And most of all, he hates that his mum died and no one seems to talk about her anymore. Feeling trapped in a life he doesn't want, Leo wants to escape, so when he finds an old music box from his mum that sends him back in time to Prague before the second world war, Leo is both excited and terrified.
The music box is somehow connected to Ivan, a young Czech boy, and the two find themselves intertwined throughout important moments in each other's lives. As Leo struggles with his new home life, Ivan is learning how different his life now is under Hitler's rule. The one thing that both boys can find escape in is running, when they run they can forget about their struggles and focus on just one thing, one moment. Each time Leo is sent back he never knows how much time has passed since his last visit or how long he will be there for. When Ivan is faced with terrible danger, the boys must work together and trust in each other if they want to survive.
Running with Ivan is the perfect example of how well a time-slip novel can work if it is done properly. From every minor detail you can see how thoroughly Leal has researched the places, times, and even people within the story. This is an incredibly engaging and immersive novel that really allows the reader to see a lesser told perspective of what it was like to be Jewish during the second world war. Set mostly in the ghetto of Theresienstadt, the reader gets a look into daily life and the heart-breaking realities that the residents had to face on a regular basis. Emotional, captivating, and real, we see both boys try to deal with their problems and get their realistic outcomes. Running with Ivan is not all doom and gloom as we see constant hope, resilience, and come to understand just how important and meaningful this is.