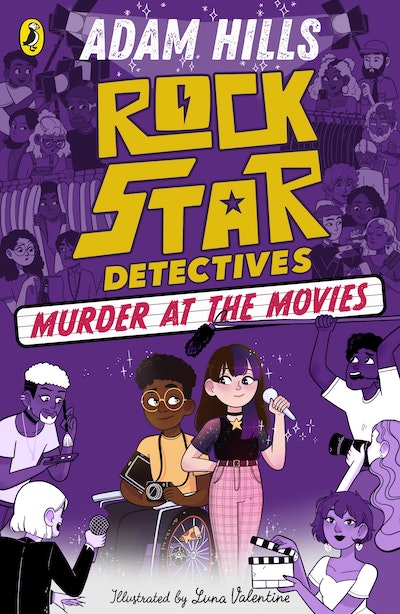 Rock Star Detectives: Murder at the Movies
By Adam Hills
Illustrated by Luna Valentine
Reviewed by Sarah Custance

Australian born comedian Adam Hills is best known as the host of the comedy show The Last Leg, Murder at the Movies is his second book for children and the second book in the Rock Star Detectives series.
Charley and George are just two normal 13-year-old best friends, other than the fact that Charley is also a famous musical rock star, George is her unofficial social media consultant/guru, and the two of them have flown from England to Australia to film a movie version of their real-life escapade in which they were accused of being international art thieves… While on the set of their movie, strange things start to happen around Charley.
First, a light almost falls on her, then a highly dangerous redback spider somehow ends up in Charley's hair, as the incidents start to increase, it becomes apparent that Charley and George have a new mystery to solve and this one is life or death for Charley! As it becomes more obvious that someone is out to kill Charley talks begin of having to shut down production of the movie and the two budding sleuth's suspect list grows. But who would want to kill off a teenage rock star and what could they possibly have to gain or lose from it?
Murder at the Movies is quite heavily weighed down at the beginning with poorly disguised exposition and unrelatable/unbelievable characters. There are the bones of an interesting idea within the book disguised with laboured writing and outlandish plotlines. There are also some serious moral issues with this book as absolutely no one (other than George) seems to care that a 13-year-old world idol is in very serious danger with her life being constantly under threat. There are also virtually no consequences that the guilty party/parties have to face for attempted manslaughter of a minor, teaching kids that if you know enough people then you can get away with anything.
Luna Valentine helps the book with frequent lovely black and white illustrations. Young readers who are new to the mystery genre will enjoy the many red herrings that Murder at the Movies has to offer and the admittedly lovely representation and diversity throughout the book.