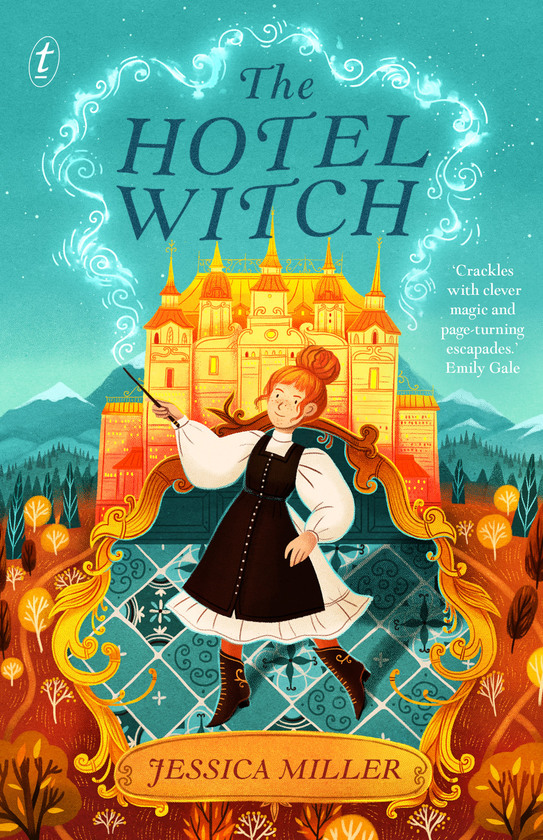 The Hotel Witch
By Jessica Miller
Reviewed by Sarah Custance
Jessica Miller is the Australian born, and UK based, author of the award winning books Elizabeth and Zenobia and The Republic of Birds. The Hotel Witch is her third middle-grade novel.
11-year-old Sibyl is an avid daydreamer who works as the apprentice hotel witch under the guidance of her grandmother at the world-famous Grand Mirror Hotel. While Sibyl helps tend to the guests' many needs using spells from The Book of Domestic Magic, spells such as; retrieving lost items, shoe shining, and dust removal, she is left wondering if this is the life that she truly wants. Does she want to be a hotel witch like her grandmother, or does she want to be off having adventures in the dangerous Black Mountains like her mother? Bored with doing the same magic over and over, Sibyl longs to learn spells from The Book of Advanced and Dangerous Magic but her grandmother insists that she has to get the little spells perfect and start focusing more and daydreaming less before she is allowed to move on.
Just when Sibyl thinks her life couldn't get any more monotonous, she begins to notice shadows are going missing all over the hotel and before her grandmother can fix it, she gets magically stuck in last Tuesday while working on the mysterious thirteenth floor. Now temporarily promoted to official hotel witch (until her grandmother returns), Sibyl has her hands full with general hotel business until more strange and sinister things begin to occur within the walls of the Grand Mirror Hotel. Without access to the spells in The Book of Advanced and Dangerous Magic and with the future of the hotel in her hands, will Sibyl be able to solve the mystery and solve the increasingly ominous problems or will it all be too much for a young apprentice hotel witch to handle?
A fun and fast-moving novel, The Hotel Witch is a light-hearted and whimsical tale for everyone that has ever found themselves lost in daydreams and possibilities. In this book/world, magic is just another job, cats will quite specifically tell you that they aren't your friend, midnight explorations can turn into dangerous adventures, and shadows suddenly disappearing is both normal and extremely concerning (especially if you've lost your grandmother in last Tuesday).
The Hotel Witch deals with themes of family and friendships, but there is a real focus on learning to work with the things about yourself that others may deem a flaw and how to use these things in a way to benefit you so that they turn into a strength rather than a flaw. This is a lovely, magical book about overcoming obstacles and accepting yourself for who you truly are. A must read for any magic lovers out there who are looking for a bit of fun.