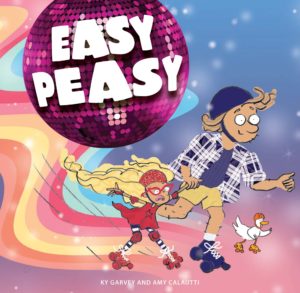 Easy Peasy
By Ky Garvey  &  Amy Calautti
Reviewed by Margarite Igras
Ky is a mother to two boys who are both diagnosed with Autistic Spectrum Disorder and ADHD. Through her experiences with her boys, she has been inspired to write stories that turn challenges into triumphs. Amy has illustrated several picture books for Little Steps Publishing.
Easy Peasy is a fun and animated picture book about a determined girl going through the process of learning a new skill.
Ruby's dad gives her a pair of red sparkly roller skates for her birthday. She has never skated before and is so excited; she takes them to bed together with her pet duck. In the morning, she is ready to roller skate.  So, she thinks. Kitted out with her new roller skates, as well as helmet, knee, and elbow guards, she attempts her first move. She wobbles, wibbles, crashes, thumps, and hurts her elbow and her knee. Regardless, she rejects any offer of help from her patient dad, saying "No… it's easy peasy."  When she finally gets up only to fall on her bottom, she concedes that Roller skating is too hard!
I love Amy's bright cartoon like illustrations. They fill the pages with animated expressions and plenty of uncontrolled body posture. Colourful wavy lines traverse the pages, reflecting Ruby's wibbly wobbly attempts at skating. The wavy lines become the skating rink with all the various levels of skating abilities. They even cover the end pages. A clever continuity is replaced by stars when Ruby finally is skating by herself. There are only a few lines of text on each page, but when Ruby wibbles and crashes, these words are large and jump on the page.
Easy Peasy will appeal to all children who love attempting new things. It demonstrates that we all need some help at the beginning, to build up confidence and ensure we start on the right foot and that parents too have a part to play, one of gentle encouragement and just being there.