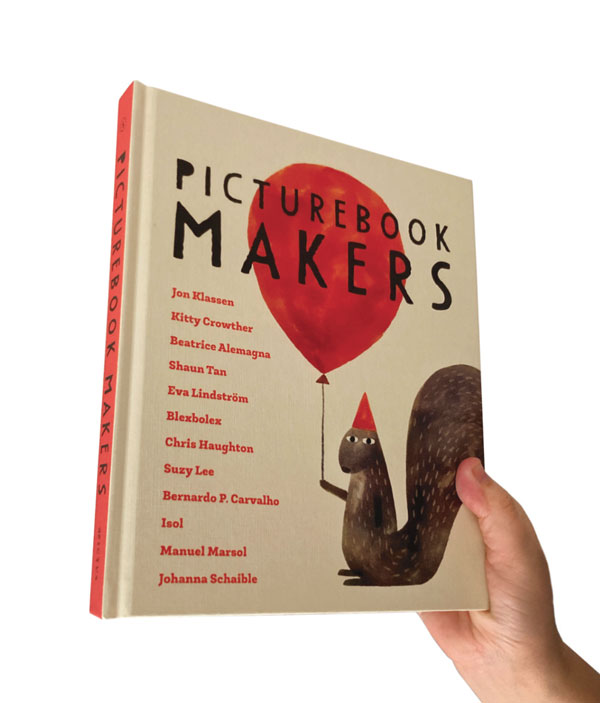 Picturebook Makers
By dPICTUS
Reviewed by Mia Macrossan
This is a fascinating book for anyone interested in the process of picture creation. Originally published in Sweden, this English edition has been edited by Sam McCullen who also wrote the introduction.
In it he says The picturebook is a unique and dynamic art form where words and pictures can contradict, subvert and expand upon each other, creating endless opportunities to convey message and meaning in ironic, humourous and altogether unexpected ways... Picturebooks have the power to convey universal sentiments and challenging themes in deceptively simple ways, engaging with the hearts and minds of readers directly and concisely, p4.

Twelve creators are profiled. After two short introductory paragraphs each artist discusses the process of creating a particular work, accompanied by full colour, full page illustrations, and annotated working drawings. Each profile is an insight into how that individual creates and it is illuminating to discover how varied each artist is in approach, in inspiration, in media.
Living in Australia there are some artists represented here whose work I have never seen and it is a revelation to discover the richness and diversity of picture book creation world wide.
The artists are: Blexbolex – France; Eva Lindstrom – Sweden; Shaun Tan – Australia;  Beatrice Alemagna- Italy; Chris Haughton – Ireland;

Kitty Crowthe

r – Belgium; Jon Klassen – Canada; Suzy Lee – Korea; Bernardo P Carvalho – Portugal; Isol – Argentina; Manuel Marsol – Spain; Johanna Schaible – Switzerland.
  Each of these artists and many more have an entry on the
Picturebook Makers blog

, a site I cannot recommend highly enough for all those, industry professionals, teachers and students interested in the process of creating picture books.
The book is a distillation of the blog, both are essential reading for anyone interested in picture book making.