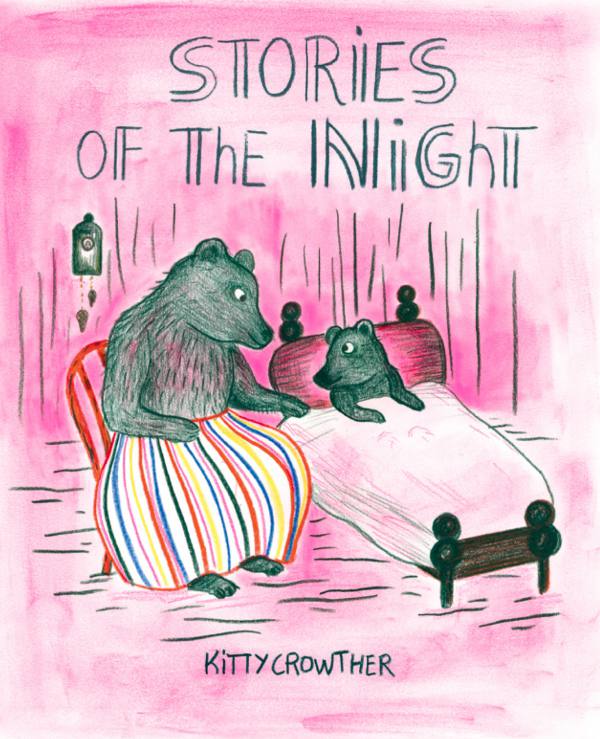 Stories of the Night
By Kitty Crowther
Reviewed by Mia Macrossan
Kitty is a Belgian illustrator and writer who won the 2010 Astrid Lindgren Award, the biggest prize in children's literature. In Stories of the Night she tells in words and pictures three little stories all about bedtime.
The three stories are framed by Little Bear who is  in bed and asks his mother for three stories as he has said please three times. She obliges first with a story about the Night Guardian who every evening walks the deep forest beating her gong just before the moon begins to rise. The sound tells all the forest animals, fish, ant, ermine that it is time to go to bed. But what about her?
The second story is about Zhora, out berry picking when she gets lost looking for extra big juicy blackberries. A friendly bat takes her to his home but she is not really comfortable hanging upside down and falls asleep on a bed of leaves.
The third and last story is about a man called Bo who has trouble sleeping. He visits his friend Otto the otter who suggests a midnight swim which Bo very much enjoys.
Then at the end the reader is back with Little Bear goes to sleep accompanied by his three friends from the stories.
Kitty Crowther's illustrations are such a marvel,  instantly recognizable, with a simple quirky style using bright texta like lines and colours. In this book she uses a lot of pink which surprisingly works really well, giving the book a luminous other worldly quality.
Stories of the Night is in a small convenient hardback format, perfect for little hands and absolutely perfect for bedtime reading. It's a pity that the title is rather uninspiring and easily forgotten since the contents are so original and memorable. Be sure to look out for it.