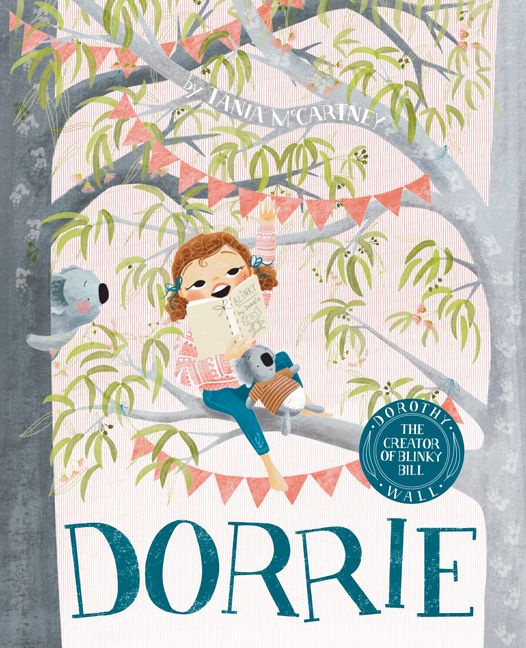 Dorrie
Written & illustrated by Tania McCartney
Reviewed by Sandy Driessens
In the Land of the Long White Cloud, where the mountains kiss the sea, lived a little girl called Dorrie. She loved to dance and sing and play piano, but best of all, she loved to make things. One Tuesday, Dorrie went on the grandest adventure of all … to a land of flat red deserts and squeaky beaches, where the treetops kiss the sky. There she met a mischief-maker, whom she named Blinky and she did her favourite thing.  She made things about him from paint and paper and string …
Multi-award winning, children's author and illustrator, Tania McCartney has created an enchanting story about one of Australia's/ New Zealand's national treasures, Dorothy Wall, the creator of the timeless series  Blinky Bill: The Quaint Little Australian (1933), Blinky Bill Grows Up (1934) and Blinky Bill and Nutsy (1937). "Dorrie" is an imaginative tale about the inspiration behind the creation of the koala Blinky Bill.
McCartney's signature, watercolour illustrations capture the character of young Dorrie beautifully, with her emotions, movement and behaviour making her loveable.  Her interpretation of Blinky's appearance is her own, though she added pants in a nod to Wall's art.   The contrasting environments of New Zealand and Australia are subtle but distinctive and the details, texture and movement, in each spread add charm to the story.
The language used is also appealing with the skilful use of onomatopoeia and alliteration to create an atmosphere with a little touch of stardust. The text is placed to complement the illustration and has a lilting feel, without the use of rhyme.
A short biography of Dorothy Wall in the afterword explains that she didn't actually come to Australia as a child, but was a gifted artist when she was young. The literary device, of making the whole story occur when she was a child, is clever and makes it appealing to children.
I enjoyed this a delightful picture book for all kids who love to draw.(dedication). It's also an engaging read which should entice the reader to search out and read the Blinky Bill Books.  Perhaps it could be shared to encourage children to create their own books.
Note: Tania McCartney's awards include: NSW Premier's Literary Award, the World Illustration Awards, MAPDA. the Wilderness Environment Award, the SCBWI Crystal Kite Award for Australia/New Zealand, and the CBCA Laurie Copping Award for Distinguished Service to Children's Literature